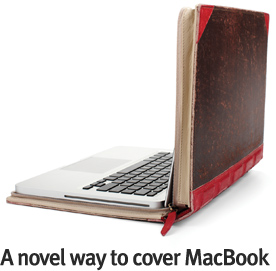 I love my MacBook.  I admit it.  Its my primary machine that I use for just about everything.  I want to protect it at all costs.  I am always trying to find something, whether its a case, a sleeve, or a bag to keep my MacBook secure.
Enter the BookBook, from TwelveSouth.  What makes this case unique and post worthy?  Several things:
Its a hardcover case with a solid spine and reinforced corners.
It has crush protection because its a hardcover case and padded interior.
The zippers look like bookmarks, and give you access to the systems power port
It rocks the vintage look of old classic books.
Its a secure way to hid your laptop in plain sight from curious eyes.
It fits 13 and 15 inch MacBook and MacBook Pros, and even a MacBook Air
Its just cool looking!
I am sure it would work well for PC based laptops as well, with a bit a wiggle room to boot.  Pricing is $79.99 and it comes in a Vibrant Red and Classic Black. Shipping is also free right now.
So, next time you grab a book from off of a friend's coffee table, check to make sure its not a laptop in disguise.
Advertisement