Today I received a message on Twitter from Harry McCracken of Technologizer on Twitter asking if I was staying at Harrah's Hotel during CES 2010. He assumed I was staying the hotel because he could see my wireless network, which is very creatively named "Xavier Lanier's Network." I replied that I was staying at the Venetian Hotel next door.
Nothing on the Las Vegas strip is really "next door" since the scale of everything is just enormous.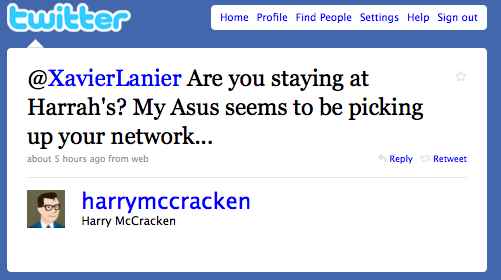 I'm using my new Apple Airport Express router, which I bought for traveling to CES. That way I could create a network for all of our devices that taps into the hotel's wired network. The hotel's Internet service has been relatively fast and stable compared to last year, which means I don't have to rely on my MiFi. The hotel's Internet service is included in a mandatory $15 per day resort fee that also includes a continental breakfast and pool access.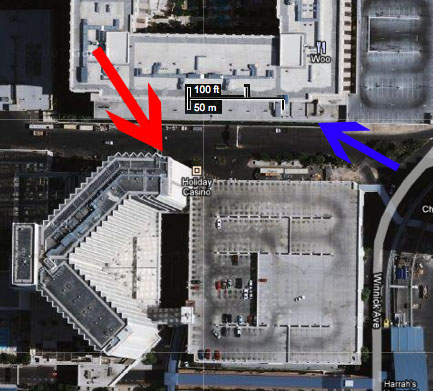 The Airport Express router is plugged into an outlet in my hotel room, which is at least 280 feet away from Harry McCracken's room. I'm not sure where in the hotel Harry is staying, but that distance is assuming he has the corner room (marked with the red arrow) on the same level as mine (marked with the blue arrow). If he's staying at the other corner of the hotel it's about 430 feet away. If he's staying on a different level he could be over 500 feet away.
Regardless of what part of Harrah's Harry is staying in, I'm amazed that he's able to see my network from at least a football field away.
Update: Harry told me he was on the 27th floor at the time, which means he was definitely a over a football field away.
Advertisement