It seems that everyone wants to get into Cloud computing these days; there's Google's Chrome OS, iCloud and a longtime cloud computing operating system named Jolicloud.
We've already talked about how you can have a cloud based computer for free with iCloud. Now I want to share another player in cloud computing market Jolicloud. With Jolicloud, you can have all the benefits of cloud computing; making your netbook the natural extension of all your other computers and mobile devices.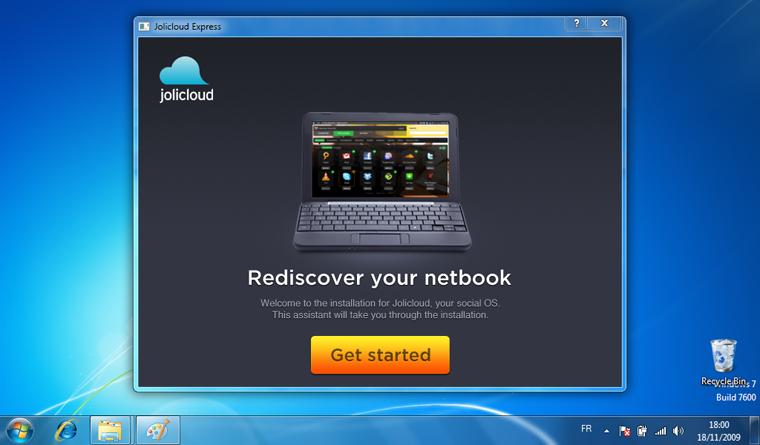 Just like on your main computer, with Jolicloud, you can enjoy using a combination of your favorite web apps, packaged for a full screen experience and other popular native apps.  Jolicloud is a Linux based system, which is designed to be installed onto existing netbooks without much hassle. You can even install it to your computer from inside Windows and keep it alongside your existing installation.
Jolicloud is different from traditional OS in that it was built for netbook users to leverage the cloud and it introduces new ideas to make your life easier.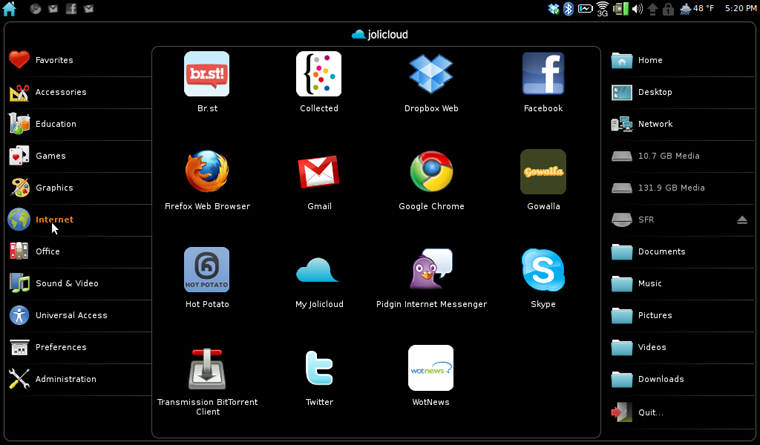 Jolicloud has been designed to make sure you can connect and collaborate efficiently. Connect and share easily with your Facebook friends and other Joliclouders. With Jolicloud the downloading and installation of apps is combined so you just click on an app and it's ready to go in one click.
You can have all kinds of applications from productivity apps to games, education and art: there are plenty of apps to discover.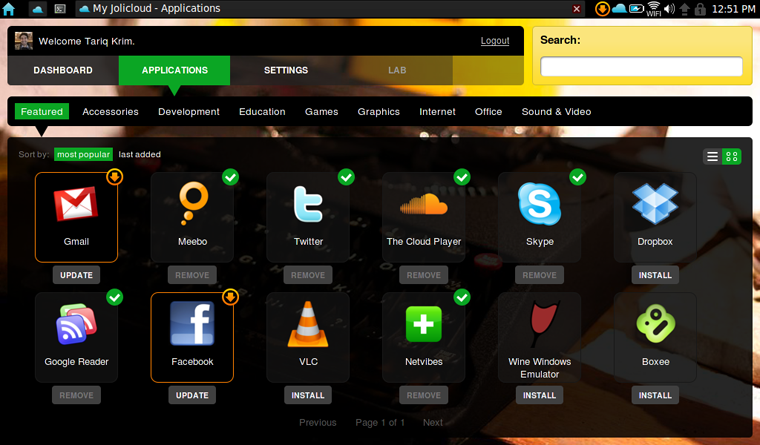 Jolicloud is one of most compatible netbook operating systems. It works on the largest number of netbooks. Here is a list of compatible Jolicloud netbooks.
| | |
| --- | --- |
| Acer | Aspire One A110, Aspire One D150, Aspire One A150, Aspire One D250, Aspire One 531h, Aspire One P531h, Aspire One 751h |
| Lenovo | IdeaPad S9, IdeaPad S9e, IdeaPad S10, IdeaPad S10e, IdeaPad S10-2, IdeaPad S12 – 295955U, IdeaPad S12 – 295954U |
| ASUS | |
| | Eee PC 900HA, Eee PC 900HD, Eee PC 900SD, Eee PC 901, Eee PC 904HA, Eee PC 904HD, Eee PC T91, Eee PC 1000, Eee PC 1000H, Eee PC 1000HA, Eee PC 1000HD, Eee PC 1000HE, Eee PC 1001HA, Eee PC 1002H, Eee PC 1002HA, Eee PC 1005HA, Eee PC 1005HA-H, Eee PC 1008HA |
| Dell | Mini 9, Mini 10, Mini 10v, Mini 12, Vostro A90 |
| Toshiba | NB100, NB200-11L, NB200-10Z, NB200-138, NB205-N210, NB205-N310, NB205-N325, NB205-N330 |
| Gateway | LT2021u, LT2022u, LT2005u, LT2023u, LT2024u, LT2030u, LT2032u, LT2033u, LT2036u, LT2041u, LT2044u |
| HP | Mini 1000, Mini 1100, Mini 2100, Mini 5100, Mini 110 |
| Compaq | Mini 1000, Mini 1100, Mini 2100, Mini 5100, Mini 110 |
| Sony | VAIO P, VAIO W |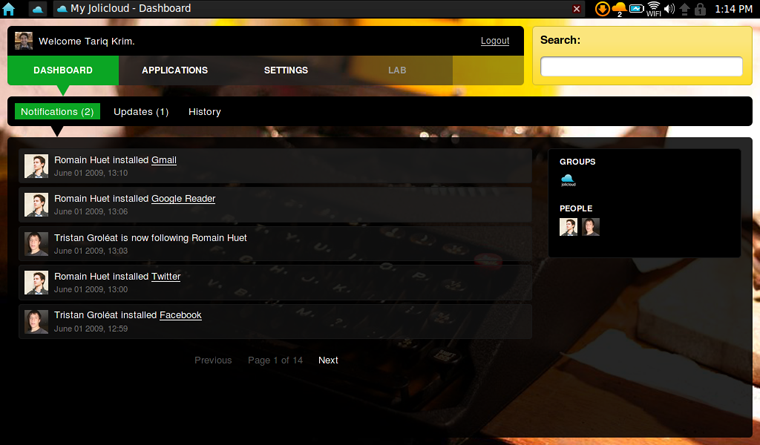 Jolicloud Internal Specs:
Kernel
Linux 2.6.32-rc6 (i386), Linux 2.6.32-rc6 (Atom Optimized)
XServer
X.org 1.6.0
Window Manager
Gnome 2.24.0
Default Browser
Firefox 3.5.3 (XUL Runner 1.9.1.3)

Prism 1.0b2 (XUL Runner 1.9.1.3)

Supported Audio formats
MP3 (MPEG-1 Audio Layer 3), AAC (Advanced Audio Coding) WMA (Windows Media Audio),                                                  FLAC (Free Lossless Audio Codec), Ogg Vorbis,                         WAV, AIFF (Audio Interchange File Format)
Photo
JPEG, PNG, BMP, TIFF, SVG,EPS
Supported video formats
Codecs supported: DivX, Xvid, MPEG4, H.264, WMV9 File formats: MPG, AVI, MP4, WMV                                               HD 720p supported with GMA500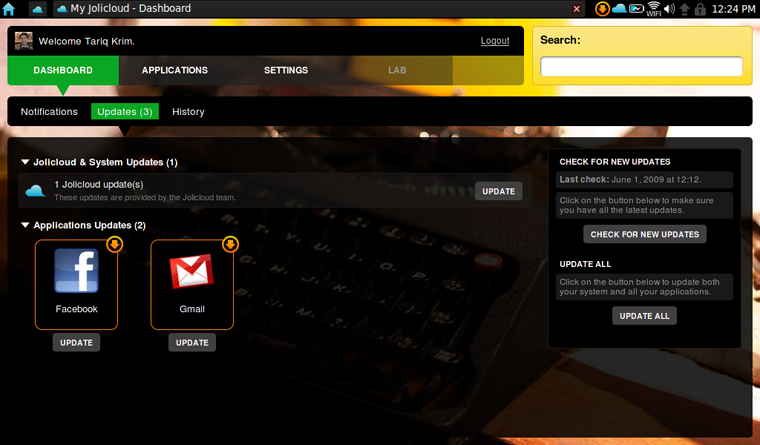 Advertisement