Making your operating system communicate with you can be a daunting task. It's something researchers have been working on for many decades now. Microsoft might have just found a solution with Windows 7. The way Windows has communicated a problem for many releases have varied over the years. We are all aware of the blue memory dump screen affectionately called the blue screen of death or random dialogs featuring stop sign or exclamation triangle with some unintelligible text. Windows has evolved over the years by making the experience more friendly and human, with Windows XP some problems or items that needed attention were moved to tool tip balloons in the Notification Area. Users complained they were annoying and a bit too intrusive at times. Vista focused on centralizing messages the system gave out through the Problem Reports and Solutions Control Panel item. This was a respectable effort that made finding and managing the problems associated with a variety of aspects of your system (hardware, software) less daunting, but there still existed the problem of tool tip notifications and scattered experiences across a variety of activities associated with Windows.
Enter Action Center, a new Control Panel item in Windows 7 that integrates Problem Reports and Solutions, Security Center, Windows Update, Windows Defender, Network Access Protection, Backup and Restore, Recovery, User Account Control consolidating numerous notifications into one centralized environment for maintaining and keeping your PC secure and running smoothly. Let's learn a bit more about these tools: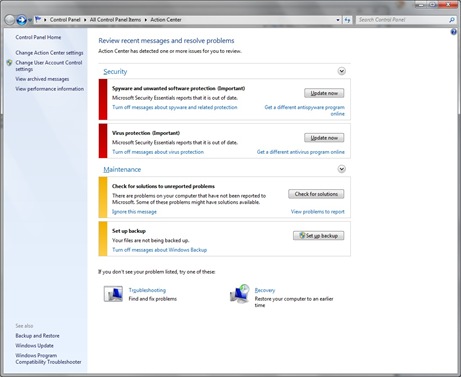 To access Action Center, click Start, type Action Center, hit Enter.
As you can see in the above screenshot, Action Center shell features a clean well organized layout categorized into two main areas Security and Maintenance and additional quick links to Troubleshooting, Recovery and other available options under the Control Panel Task Pane.
Security
The Security Area of Action Center provides vital information about your security status, with colored notifications that indicate the severity of a problem. As you can see, my current status is red along with a summary noting that my Antivirus program is out of date. With one click I can immediately update my Antivirus right there to resolve that problem.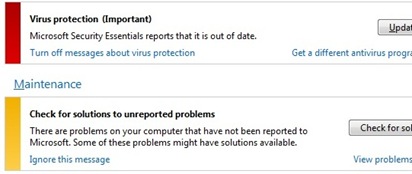 Red indicates that there is a security threat or potential for loss of data if the problem is not corrected.
Yellow indicates that you should attempt to fix the problem but there is no risk to your computer if you don't.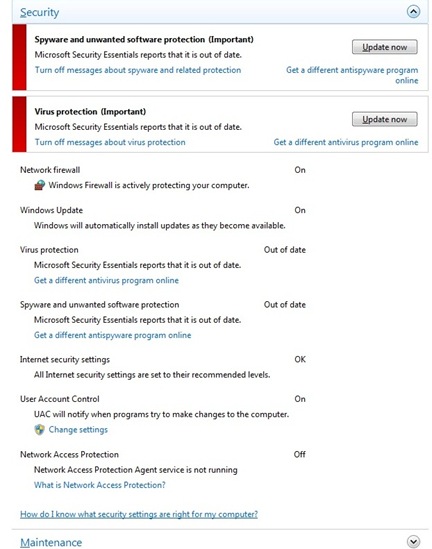 If I need additional information, simply click the chevron button, this will reveal information regarding areas of the system such as Network Firewall, Windows Update, Internet Security settings, User Account Control and Network Access Protection. The key aspect here is the centralized summary of the systems health which makes it easier to manage and maintain. For consumers and business users, User Account Control and Network Access Protection provide greater ease of use when working with your computer and simplifies the security experience for users who connect to a business Network. If your Administrator has enabled support for NAP, when you connect your PC, it is checked to see if it is in compliance with standards implemented by the Administrator, such as software, settings and updated Antivirus. If everything is not updated, your access to the network can be limited until all those outstanding issues are resolved.
User Account Control notifications can be better controlled when it comes to notifying you about changes to your system. If you had upgraded to Windows Vista, you will remember the numerous User Account Control dialogs you had to contend with, whether it's accessing an area of the system, installing a program or doing some random task.
Windows 7 provides a more passive experience with UAC, you will still see a few, but it's not triggered for every action taken. UAC also gives the user more information about why it does what it does. For instance, an application is shown which part of the system it needs to access or need to write to. UAC is still annoying, but it's not in your face. The enhanced settings provide users the option of controlling how they are notified of potential changes to the system. Similar to Internet Explorers 'Security level for this zone' setting, users have a choice between Never and Always Notify.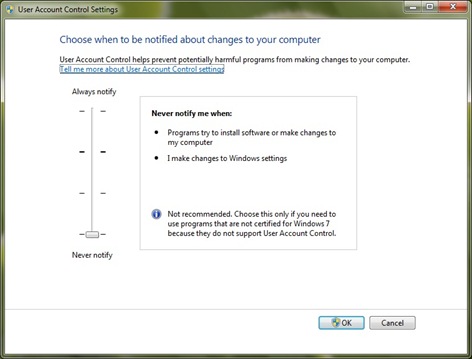 Never Notify is the most drastic option and is pretty much similar to turning of UAC all together. I don't think you want to choose this option because UAC still has a place in Windows, just that it needs to be more intelligent. For this there are more flexible options.
The option to only be notified when programs attempt to make changes to the system, but exclude user initiated actions. It kind of defeats the original premise of UAC protecting novice users from themselves, but for those who are novices and experts who find UAC in its current state too intrusive should find this to be the right balance.
Two other options, 'Always Notify Me', notifies the user, but does not wait on a response from the user, which the obvious 'Always notify me and wait for my response' does.
Overall, I consider this to be progress; users finally have choice on this critical area of the system. It's clear Microsoft has listened and users should feel more confident with changes they make to UAC. In Vista there is this nagging paranoia even for those who willingly turn it off, with Windows 7, it's all about choice and confidence.
Maintenance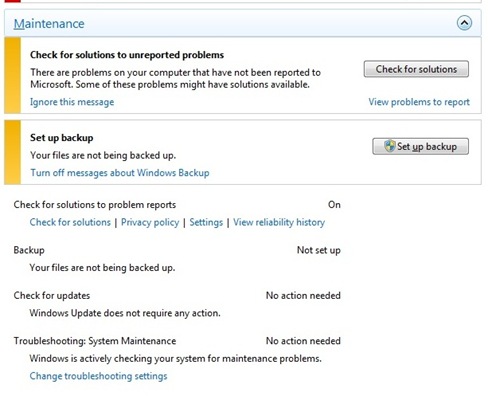 This area of Action Center deals with Problem Reports/error messages that the system has encountered. If you have not submitted them yet, you can click the Check for Solutions link that might be available to resolve the problem. Backup is also featured here and notifies you about out of date backups or files that need to be backed up. When you click the Chevron button, it reveals additional details such as whether you need to check for updates or if an action is required for a particular problem you might be experiencing.
Check out Notebooks.com Windows 7 backup tutorial here
Problem Reports and Solutions which was introduced with the release of Windows Vista is now a part of the Action Center shell. Whenever your computer encounters errors software or hardware related, Problem Report keeps a log of all these problems. If you click the 'View problems to report' link under Maintenance you might see a backlog of problems that you can check for possible solutions.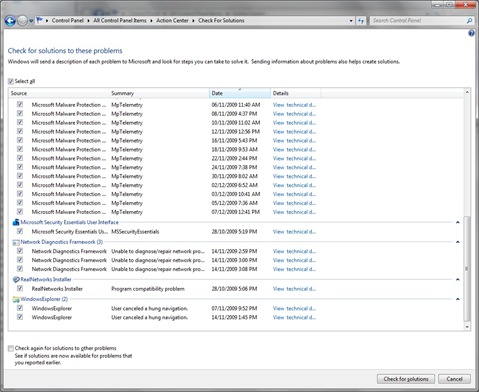 Problems are organized into categories that allow you to easily associate an issue with a particular area of the system. As you can see in the above screenshot, I have multiple issues related to my Antivirus program, Network, third party application installer and the Windows Explorer shell. You have the option to pick and choose how you want to report problems. If you want to check for solutions to all problems, just check the 'Select All' box, if you consider some problems to not be detrimental you can check for solutions on a case by case basis. Other factors can include your Internet Connection, because a lot of diagnostics data is sent to assist with the resolution of the problem, it can take some time to send the information.
In addition to these main aspects of the Action Center, you will find additional tools such as Troubleshooting and Recovery. In our Troubleshooting Heroes article, we discussed the benefits of this new experience which bundles packaged wizards to help diagnose and resolve up to 27 of the most common problems with additional troubleshooters available from Windows Update. We also took a look at the new Recovery Options included in Windows 7, which provides more effective options for correcting issues whether it's associated with reinstalling Windows or repairing your computer if it is not starting properly.
Accessibility and Notifications
This probably is the highlight of Action Center in Windows 7, the subtle notification experience and quick access to items that need attention. Situated in the Notification area of the Taskbar is the Action Center Flag, if you hover your mouse pointer over the icon, you will see a tool tip revealing the amount of pending messages that need attention. When clicked it reveals additional details and you can click an individual message to resolve the issue right away or just open the Action Center to review all messages.
Options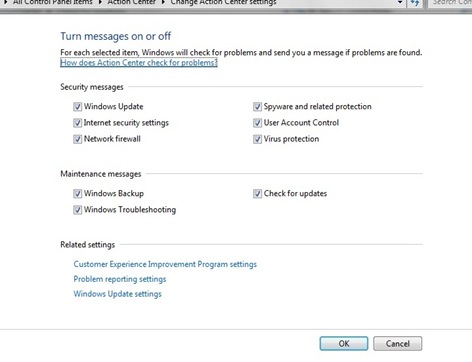 Another thing I like about Action Center it is very customizable, you are not restricted to doing what the program says. If you click on the Action Center settings link under Control Panel Home, you will see the option to fine tune what types of items you would like to receive reports and messages about or what type of information you would like Windows 7 to diagnose and send to resolve.
Conclusion
If you have not checked out Action Center, now is the time to do so. The centralized experience makes it seamless for managing and maintaining the health of your PC. The simplified convenience of the interface, ability to customize and mitigate issues quickly makes this addition to Windows, a definite winner!
Advertisement