In our earlier article we mention that Microsoft has released their next version of Office 2010 Beta to public download. You can download beta version for free and see for yourself how Microsoft plans to deliver on its promises for the next edition of Office.
The most appealing addition to Office 2010 is the introduction of web Applications which include lightweight versions of Word, Excel, Power Point, One Note and others. These Office Web Apps are meant to compete with Google Docs and other cloud based office suites.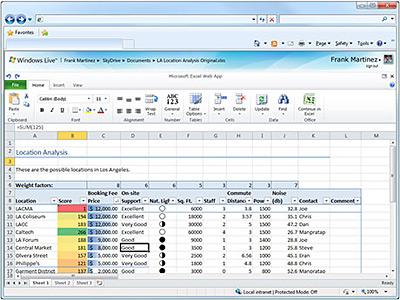 The Good things about web apps are that they give the freedom to work from virtually anywhere and you can access them from your desktop, laptop, mobile devices, Internet Explorer, Firefox or safari. Whether you're editing a document from home or collaborating with someone around the world, office web apps help you work the way you want.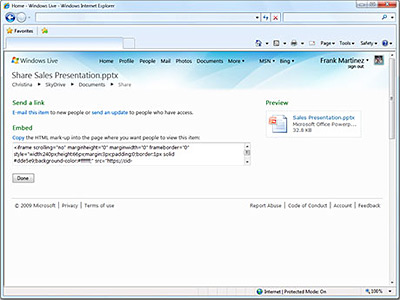 Home Versus Business:
Microsoft Office 2010 Web apps comes in two flavors. One version is for home and school and another version is for businesses. These two versions largely will be the same but have some small differences.
Office Web Apps for home and school:  This version is for home users, students, and small businesses. If you have an Internet connection, you can access, edit, and share documents easily—and store them to Windows Live using your Windows Live ID, so they're never farther away than your PC or smartphone.
Office Web Apps for business: This version is for business users. Office Web Apps give you more flexibility to stay connected to your work over the Web. Even when working away from the office, you'll still have online access to your work and a core set of Microsoft Office functionality. Post your work on Microsoft SharePoint 2010 and edit, save, and share your work with others from across town or around the world. It's convenient and easy.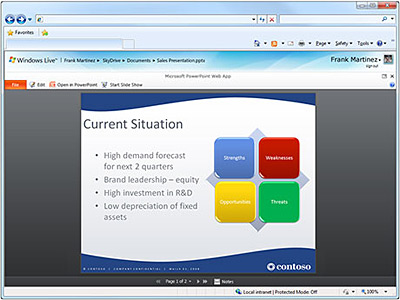 People will be able to get Office Web Apps in a number of ways. It will be free for anyone who wants to use the basic version, and business customers can get a paid version that they can either run on-premise on their own SharePoint Server back-end or as a hosted service from Microsoft.  The consumer version will have ads as well as features such as publishing to third party blogs, while the other two versions will include enterprise level tools such as backup and restore, version control and IT control over how Web Apps are used. For more details please visit the Microsoft Office Web Apps site .
Advertisement