Walmart is instituting a major change in the way it will handle Black Friday lines after the death of a worker last year. Instead of lining up outside of the store, creating a stampede for the best deals at 5 AM, most Walmart stores will remain open for 24 hours so that shoppers can enter the store in an orderly fashion and wait in the comfort of the florescent lights and 68 degree heat. So how will this change affect your quest for whatever notebooks and gadgets Walmart offers on Black Friday? Don't worry; it's going to be a lot more orderly and, thanks to coordination with several sources, safer.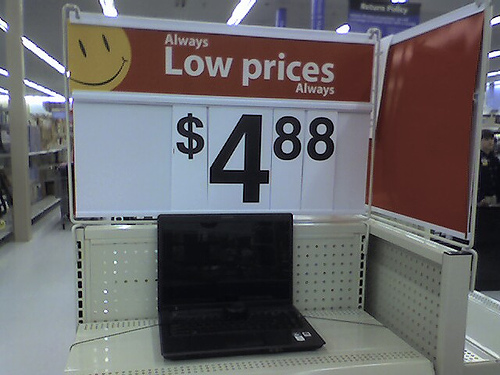 Participating Walmart stores, all stores that are already open 24 hours, will stay open overnight on Thanksgiving so that customers can enter the store and make their way to designated product displays. So, for example, the Black Friday notebook that Walmart will offer will have a line all of its own; which will be supervised by a Walmart employee. Most Walmart stores already have limited experience with these types of lines since they are used for hot product launches like that that of the PlayStation 3, so things should go smoothly enough.
This method is similar to the ticketing method of distributing Black Friday deals at retailers such as Best Buy, where it has proved both safe and popular. The biggest difference is that, from the way Walmart describes the plan to the New York Times, each item will have its own line. This means if you are trying to get a doorbuster HDTV and a doorbuster notebook on Black Friday you should plan on bringing a friend to wait in the other line.
Overall this is a very positive change and follows the guidelines set forth by the National Retail Foundation as well as the Black Friday Safety Measures in place at other retailers. If you want to know more about how to stay safe on Black Friday you can read tips from a safety expert at WalletPop.
Photo credit: Ryan McFarland
Advertisement