Looking to pick up a basic notebook at a great price? One of our favorite deal sites, Woot.com has just what you need.
You can pick up a refurbished 11.6" Gateway notebook for just $279 (+$5 shipping). In standard Woot fashion, this deal will only be available today (until 1pm EST) and might sell out even before that.
Here is a rundown of the important specs:
Processor: AMD Athlonâ"¢ 64 L110 Single-Core Processor (1.2GHz, 800MHz FSB, 512KB L2 Cache)
Operating System: Genuine Windows Vista® Home Basic (32-bit) with SP1
Display: 11.6" HD WXGA Ultrabright™ LED-backlit Display (1366×768 resolution, 16:9 aspect ratio)
Video: ATI Radeon® X1270 graphics with 256MB HyperMemory
Memory: 2048MB DDR2 533MHz SDRAM Single Channel Memory
Hard Drive: 250GB SATA hard drive
Wireless Network: 802.11b/g Wi-Fi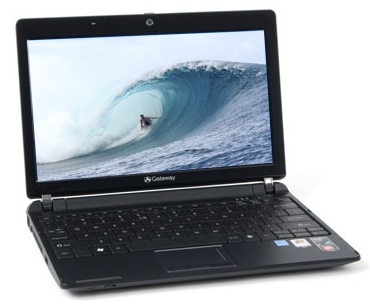 This notebook is less expensive than even your typical netbook and tops netbooks specs in nearly every aspect. Head over to Woot.com to check out some additional info and see the complete specs list.
Advertisement