If you're in the market for a MacBook you're in luck. Micro Center is offering a $200 rebate on the new unibody MacBook through the 15th of this month. The $200 MacBook rebate drops the final price down to $799.99, which is the lowest price we've seen on the new MacBook to date.
The new MacBook comes with a 2.26GHz processor, 2GB of RAM, a 250GB hard drive and a built-in battery that lasts up to seven hours on a single charge. You can read more about this particular MacBook in our review roundup.
Unfortunately, this is an in-store only deal, which means you're out of luck if there isn't a Micro Center store near you.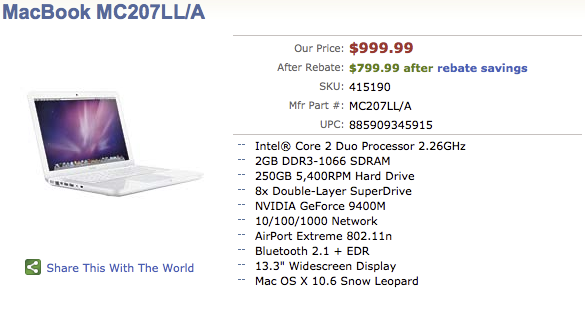 At this price I expect Micro Center stores to be short on stock. You can order online to reserve your MacBook for in-store pickup.
Significant discounts like this on newly released Apple products are very rare. Hopefully we'll see similar discounts from other Apple retailers on Black Friday and throughout the holidays.
The rebate form that Micro Center linked to on the bottom of the MacBook product page was missing in action when I tried clicking on it, so you might want to ask for a hard copy if you pick up a MacBook from Micro Center.
Advertisement