Losing your laptop can be a huge pain. Not only are you out the cost of your laptop but you may have lost confidential documents or a term paper that hasn't yet been backed up. There are several programs and services that let you track down your laptop and even work with law enforcement to help recover a stolen laptop.
Phoenix Technologies, notably known for making Bios software, has a new service call FailSafe that helps you track the last place your laptop connected to the internet, retrieve or delete files and even disable the computer completely.
Locating
When it comes to locating your laptop FailSafe provides several ways to track it down, including;
IP address general location with IP
GPS
Webcam
Wireless SSID Name
The Dell Studio 14z we tested was not equipped with GPS and Dell has not enabled the Webcam feature so we will focus on the other locating and data protection options.
Every time your laptop protected with FailSafe connects to the Internet a great deal of information is logged to help you track it down in the event that it has been lost or stolen.
When you tell FailSafe to locate your laptop you'll be able to see when it last accessed the internet, its IP address, ISP, general location and if connected via Wifi the name of the wireless network.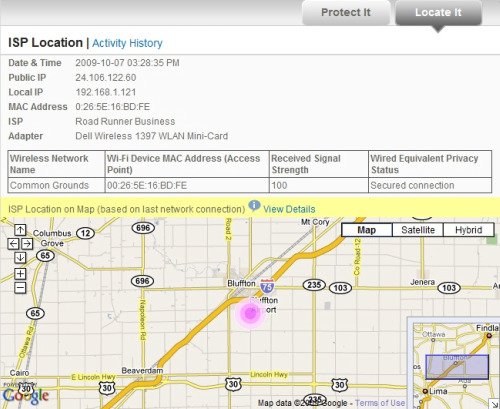 If you are simply trying to track down your laptop this may give you a clue as to where you left it.
While you won't be able to see the exact location of your laptop without GPS, the ability to see the name of the Wireless network it is connected to and the IP address will help you in any recovery attempts you make. Thanks to the IP address college students may be able to ask their network administrator to track down what room a missing laptop is connecting from.
If you prefer not to play detective then FailSafe will coordinate with local law enforcement to track down your lost or stolen laptop for $39.95.
Protecting
On top of locating your laptop FailSafe offers several easy to use protection options to help you keep your private data safe.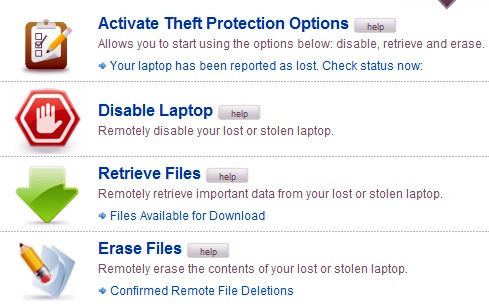 Once you've logged into the FailSafe dashboard from another computer you can retrieve important files that you don't have backed up. The "Retrieve Files" option will let you recover files the next time the computer connects to the internet without the thief knowing that you are doing anything.
The retrieval process does have limitations and shouldn't be used to replace a full-scale backup solution since it can only recover files up to 5 MB and 25MB worth of files at a time. You also need to know the location, file type or name of a file which presents a challenge. You can use wildcards like, *.* to recover all files from a directory or *.doc to recover all documents but you cannot browse contents of the drive.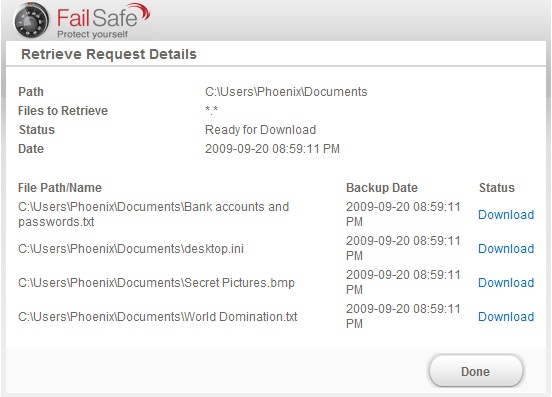 You can also delete files in a similar manner if you just need to keep a document away from prying eyes. After you select files to delete FailSafe will remove them the next time your computer connects to the Internet.

After deleting and recovering all the files that you need you can also disable the computer so that it is useless to whoever took it. You can customize the message that is shown on screen to tell the individual how to return your stolen laptop. When you are reunited with your laptop you can enter a code and gain full access to your laptop again.
Details
Since the FailSafe service enjoys a close relationship with your notebooks BIOS, its part of it, FailSafe continues to work even if a new hard drive is installed. It will also continue to work if Windows is reinstalled by installing behind the scenes.
The FailSafe service is currently available on Select Dell Notebooks as part of the CompleteCare service package and on the Samsung Go Netbook. After your initial purchase you can extend your subscription to the FailSafe service by paying $39.95 for an additional year or $79.95 for 3 years. You can also purchase support plans in the event you need help with the FailSafe service.
Pros:
Built into Bios.
Remotely retrieve or delete files.
Great deal of information about laptop location.
Cooperation with Law Enforcement for stolen laptops.
Cons:
Must know where files are located or what they are named.
Limited to 25 MB for each file recovery.
Must purchase with your new computer.
Bundled with Dell CompleteCare.
Bottom Line
The FailSafe service provides several useful features to safeguard your laptop and the information you keep on it. Even with the limitations on file recovery; FailSafe provides users with useful features and assistance in tracking down a lost or missing laptop.
FailSafe is limited by the fact that you can only purchase it with a new computer and when purchased from Dell, you must purchase it as part of Dell CompleteCare package. But, if you're already looking for accidental coverage then FailSafe is a strong laptop location and protection service.
Hopefully, in the future, you'll be able to purchase the FailSafe service direct from Phoenix at any point in your laptop's life.
Advertisement