That's right; in a recent survey by Retrevo, a consumer electronics shopping site, 67% percent of Mac users would take Windows 7 for a spin if it was free! Before Steve Jobs has a heart attack or Balmer starts sweating up a storm with his victory dance; take note that 97% of Mac owners surveyed said that they wouldn't even think about switching back to Windows full time.
But just because Windows 7 won't win back many Mac users doesn't mean it hasn't caught the attention of PC users in a big way.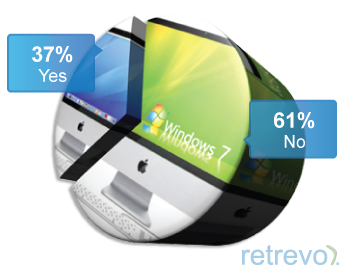 The Retrevo survey provided some additional insight into how consumers are approaching Windows 7.
37% of respondents planning to buy a computer this year have been waiting for Windows 7 to be released.
Almost half (47%) are waiting to see what others think about Windows 7 before upgrading.
12% are definitely upgrading to Windows 7 on October 22nd.
According to estimates by Retrevo even a 12% upgrade rate on old computers would equate to 188 million copies of Window s7 sold which will, "represent a small windfall for Microsoft."
Personally, it's no surprise that many users, including Mac owners, are willing to give Windows 7 a try. Thanks to plenty of usability enhancements and promising performance even on older computers Windows 7 is a relatively cheap way to upgrade your computer.
If you're looking for a new gadget or just to find the manual for one you already have Retrevo is a great place to start. They have links to digital copies of numerous manuals and provide a product lifecycle chart which helps you make smarter gadget purchases, especially if you shop on the clearance rack. For more info and a look at the Retrevo Value Map, check out my review on WalletPop.
Advertisement