Normally when the Apple store goes offline its return is met with cheers of Joy for new Apple products but the brief outage this morning didn't bring the chorus of cheers that the actual release of Snow Leopard would. Thankfully Apple did announce the new features of OSX 10.6 and that Snow Leopard will ship on August 28th.
The Single User Snow Leopard upgrade is available for pre-order in the Apple store right now for $29 and quotes delivery on August 28th for orders placed today. Family pack pricing is also available at $49 and includes licenses for up to 5 computers in the same house. If you aren't currently using Leopard (find out what version of OS X you have here) you can get the Single User Mac Box Set for $169 or Family Pack for $229.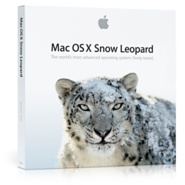 Notable new features in Snow Leopard include:
Microsoft Exchange Support
Faster Startup and Shutdown
64-bit support
Smaller install size (get 7GB of disk space back)
Grand Central Dispatch (better performance for multi-core processors)
OpenCL (allows the graphics processor to accelerate application performance)
QuickTime X (new QuickTime player and other new features)
Improved Universal Access (Better support for individuals with disabilities)
According to a poll on The Unofficial Apple Weblog, users are most excited about Grand Central Dispatch, faster startup and shutdown and Microsoft Exchange Support.
As a primarily Windows OS guy, I can definitely say that I'm jealous of the low upgrade price offered for users who have an earlier version of Leopard and wish that Microsoft would give all Vista users a similar discount for the hardships we have endured over the last 3 years!
Advertisement