Newton Peripherals, the company best known for making mobile accessories that fit inside your computer, released a new mouse today for netbook users. The new MOGO MOUSE for Netbooks doesn't reinvent the wheel; instead it combines two popular MOGO products with a new case in order to make an attractive package for netbook owners. The netbook kit which contains the company's Mogo Presenter Mouse, Bluetooth adapter, case and charger is available today for $99.
$99 bucks is on the expensive side for a mouse but if you want a 5 mm thin mouse it's the price of admission. For the cost you do get a double duty accessory. When you're working on a presentation the mouse's kickstand pops out for a full featured mouse experience and when it comes time to wow your clients you can close the kickstand and use the mouse to advance slides and blank the screen for a big reveal.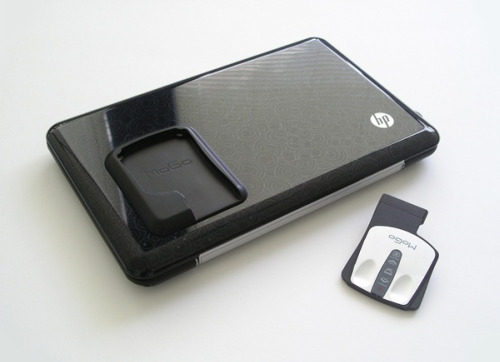 Do yourself a favor, don't attach the case to your netbook like this image shows. It just adds to your netbook's size and looks out of place next to the sleek lines of most netbooks. Keep the case in your bag where it belongs.
Commenting on the release, Stuart Nixdorff, President of Newton Peripherals, said Netbooks are becoming increasingly popular, but they have no easy way to store, transport or charge a mouse. No other mouse manufacturer including Logitech, Microsoft or Belkin has yet to develop a fully integrated Netbook mouse like the MoGo Mouse for Netbooks."
A thin mouse like this is very useful since many netbooks have small or oddly configured trackpads that make extended use a chore. Don't let the name fool you though, this package may also prove useful to users of notebooks without an expresscard or expresscard 54 slot.
The MOGO MOUSEâ"¢ for Netbooks weighs half an ounce, has a 10 hour battery life and charges in 30 minutes. It connects using Bluetooth 2.0 with a range of 30 feet and works with Windows XP, Vista and Mac OS X.
Advertisement