Apple's offering students a free iPod Touch with the purchase of a MacBook, MacBook Pro or MacBook Air. The 8GB iPod Touch retails for $229, but is free after rebate as long as it's purchased directly from Apple or your school's computer store. Apple's set up web page detailing the offer.
Apple's run similar promotions during the past two back-to-school seasons, but usually kicked things off mid-summer. Many schools are still in session, making this back-to-school promo a little early. Apple may be using this as an opportunity to clear out inventory ahead of new product announcements.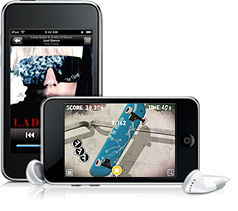 Campus staff and faculty can also get in on this deal. Parents with kids attending college are also eligible to receive a free iPod Touch. In order to qualify for the free iPod Touch you need to purchase both the MacBook and the iPod Touch at the same time. You also have to remember to send in the rebate form and a copy of your receipt.
The free iPod Touch offer is valid through September 8, 2009. Rebate forms must be sent in by October 9.
The most affordable MacBook has a white plastic exterior and starts at $999. Students are eligible for a $50 discount, which means they can get an entry-level MacBook and iPod Touch for $949 after rebates. Students and educators are eligible for up to $200 off MacBook Pros.
Visit Apple.com to learn more.
Advertisement