Approximately 67.2 million computers were sold in Q1 2009, which is a 6.5% decline compared to a year ago. Gartner reports that HP's overtaken Dell for the lead in the US market for the first time since 2001.
Low priced mobile PCs continued to be the growth driver for the PC industry in most regions," said Mikako Kitagawa, principal analyst at Gartner. However, we anticipate a sharp decline in industry revenues due to the lower average selling prices (ASPs) of these devices."
Toshiba's and Acer both saw tremendous growth overt the past year despite the battered economy. Acer finds itself neck-and-neck with Dell for the second slot behind HP.
Apple's US market share declined slightly over the past year, with a 7.4% share in the U.S. Globally, Apple doesn't place in the top five and is lumped in with "others," behind HP, Dell, Acer, Lenovo and Toshiba.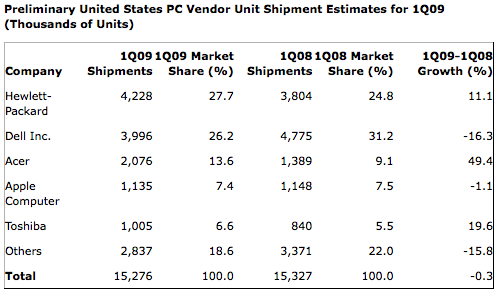 Advertisement