The 6-cell extended battery for the HP Mini 1000 is shipping and on sales for $95.99 after a $24 discount. The Mini 1000 is one of my favorite netbooks, but its standard 3-cell battery just isn't enough for a lot of people. The 6-cell battery doubles the time you can work on the Mini 1000 on a single charge.
I used a pre-release 6-cell battery during CES 2009 with my Mini 1000, but didn't like the extra thickness it added to the netbook's thin frame. I prefer carrying a second (and sometimes third) 3-cell battery so I can slip the Mini 1000 in my sweater's pocket.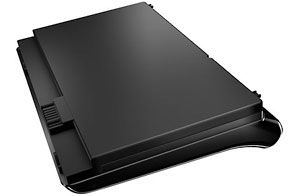 Here's the Mini 1000 6-cell extended battery product page.
Advertisement