I cannot tell you how bored I have been while searching for a decent laptop bag for my Macbook Pro. I am always looking for a bag that has the right balance of style, function, and of course price. While at Macworld I think I discovered a brilliant bag maker that goes above and beyond in a variety of ways. No matter if you drive, bus, fly, bike, or walk to perform your daily duties… your bag and all that it contains is always by your side. Rickshaw Bagworks is a San Francisco based company that understands that the urban nomad in us all needs a great bag while on the go and that there is more to a business than its product.
Bags with Form & Function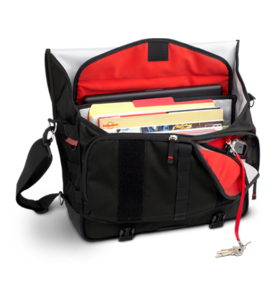 The attention to detail, craftsmanship, and thoughtful design is apparent while watching Rickshaw's Founder and CEO, Mark Dwight, tour the features of one of their custom made bags. The bags are designed to stand up straight when placed on a table or floor and sport a substantial handle to quickly grab and go. The PVC-free liner is waterproof as is the bottom of the bag which is a relief for those who occasionally wait for the bus or a cab in the rain. The flap comes in a variety of striking patterns and closes with the usual velcro, but has the distinctive addition of magnetic closures Mark dubs "The Silencer". They cover the velcro and keep a crowded classroom or conference room from turning your direction as you rip your bag open to grab a pen or paper. Buckles seal the deal as added protection. Inside you will find a padded laptop sleeve that can be removed in the case that you purchase a larger laptop in the future. This option also provides the luxury of using the bag for other purposes. There is also plenty of room for papers, a couple magazines, and books. Usually covered by the flap are large pockets for carrying your usual gadgets and items such as your phone, keys (there is a tether for them), moleskine notebooks, and pens. The back of the bag features a large pocket with a zipper for quick access.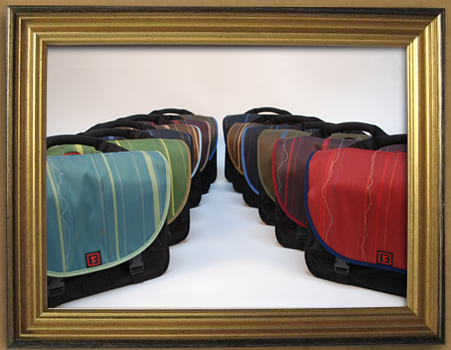 Customized to Fit Your Style
An incredible thing about these bags is that they can all be customized to fit your personal style. Rickshaw uses upholstery grade materials which are made for a high amount of wear and can be used to create the look and feel you want. Clean and simple or crazy and colorful can be achieved at your request. Their blog even features a number of custom bags created for individual events and organizations such as the 2008 TED Conference. They take a hands on approach to helping their customers find the right bag to fit their needs. CEO Mark Dwight can frequently be found posting videos for customers showing their bag being made or the finished product in all its glory.
Beyond the Bags
On their web site, Rickshaw acknowledges that their business means more to them than just the bags they make. They understand that their bags in addition to how and where they are made play a big factor in the company DNA. From their site: "In addition to our bags, we share a strong set of humanistic, environmental, and social values that guide the way we conduct every aspect of our business." Now this may seem like marketing fluff at first, but by looking a little deeper you can see that Rickshaw walks the talk. They have managed to keep the making of their products almost entirely local and in their San Francisco factory. They strive to be environmentally conscious and even have a product line called "Bottles to Bags" with an exterior made from 100% post-consumer recycled beverage bottles. (Take a look at the video below to see how they create material from the bottles). They also frequently give back to the community and participate in things such as the upcoming Teens in Tech Conference and partnering with REDF to help at-risk youth find employment in the San Francisco area.
Rickshaw's passion for their product, customers, and community is obvious. It is always great to purchase a product that is well made and fits your needs, but it's quite a bonus to also support a company like Rickshaw Bagworks that understands that a business can contribute more to its surroundings than just a cool bag.
Advertisement