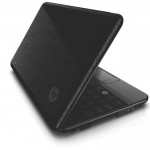 The HP Mini is now available with integrated WWAN modems, which support GSM and CDMA networks. In the U.S. the integrated WWAN is a $199 add-on and you get to choose between AT&T or Verizon.
The modems can be ordered starting today and customers can activate service themselves using HP's connection manager.
I highly recommend using WWAN if it's in your budget, but it's still an expensive proposition since the modem is an extra $199, and service costs about $60 per month.
This may be too much for Mini 1000 customers, but this announcement is great news for a couple of reasons. In Europe many wireless broadband providers susidize the prices of netbooks the same way U.S. mobile carries subsidize the prices of new phones. As HP firms up its relationships with AT&T and Verizon you'll begin seeing offers of subsidized netbooks, bringing their initial cost down to $0. This is just a matter of time.
As more consumers begin to use mobile broadband service I hope prices go down. Lately they've been doing the exact opposite, with the price per GB rising significantly as carriers implement more and more caps. A couple of years ago I signed up for an unlimited plan with Sprint for WWAN service for $60 per month. New customers only get 5GB per month for the same price now.
Advertisement