Office Depot's offering a $360 discount on the Toshiba Satellite M305D-S4831. Normally priced at $849.99, the M305D-S4831 will cost just $489 on Black Friday.
The Toshiba Statellite M305D-S4831 comes with a 14.1-inch display, 4GB of memory and a 200GB hard drive.
The Black Friday discount includes $310 in instant savings and a $50 rebate. I'm not a fan of mail-in rebates, but if you do buy this notebook please do remember to return your rebate forms the same day you buy the notebook.
There will be a minimum of three M305D-S4831 notebooks at each Office Depot store on Black Friday, which will make it difficult to score one of these.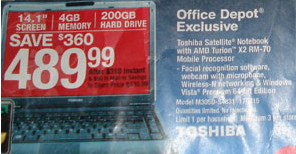 Please be sure to check out our holiday giveaways, including the $300,000 HP Magic giveaway where 50 blog readers will win three HP notebooks, an HP TouchSmart Desktop and several accessories . We're also giving away 20 Seagate Hard Drives. You'll also get to discover some great Web sites in the process.
Advertisement