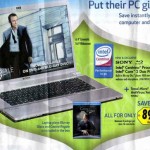 Best Buy will be selling the Sony VAIO FW entertaiment notebook with a Blu-ray disc drive for $899 on Black Friday. The VAIO FW will come with a Blu-ray version of Casino Royale.
The Sony VAIO FW245 is a configuration of the FW series that includes 4GB of memory, a 250GB hard drive and the Blu-ray drive. All FW's include 16.4-inch widescreen display, webcam, microphone and HDMI output. It uses an Intel Core 2 Duo processor.
Best Buy is pricing the FW245 at a $290 discount compared to MSRP and throwing in a copy of Trend Micro AntiVirus/AntiSpyware.
There will be a minimum of eight FW245's available at each Best Buy store on Black Friday.
Best Buy's Black Friday ad calls the FW245 an "exclusive," but the VAIO FW series is widely available elsewhere.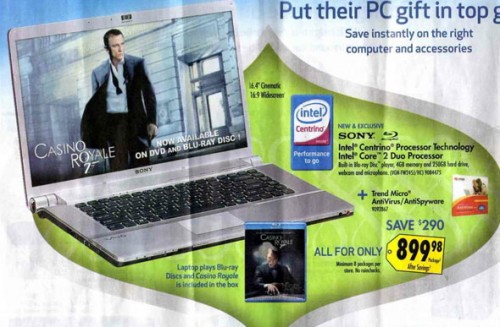 Before you get too excited about these and other Black Friday notebooks, please read this recent Notebooks.com article:
Black Friday: 15 Tips for Buying a Black Friday Notebook (or Not Buying One)
For more Black Friday Notebook deals, visit the Notebooks.com Black Friday page.
Advertisement