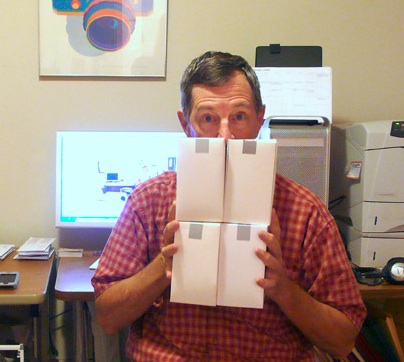 There are about 10,300 retail outlets where you can buy Apple computers, but Steve Jobs really wants you to visit one of the company's 250 stores to receive a superior experience.
Jobs has admitted that he conceived the companies chain of retail stores because authorized resellers weren't presenting his well-designed products with the proper level of flair and customer support. The first store opened in May 2001, and now the chain extends across the U.S. and into seven other countries, including a store in Beijing that opened this past summer.
The stores serve a dual purpose, with sales of products being primary. But almost more key for the stores, they serve as a focal-point for Apple enthusiasts, with a schedule of classes and workshops, personalized training sessions, buying assistance, business consultation, and service at the Genius Bar.
This retail concept keeps the stores busy and buzzing. If you visit an Apple store, only some of the visitors are there to actually purchase merchandise. Many more are there to check out the latest products, participate in a group or individual training session, or attend a presentation or music event.
And if you look closer at the visitors, you'll find that many are there to check their e-mail, surf job or apartment rental Web sites, post updates on their Facebook page, or take crazy pictures with Apple's PhotoBooth application. You might even see people using their own laptops to check e-mail, via the store's open Wi-Fi network. That's right–an open wireless network, and a high-speed one at that, available for both Mac and PC users.
There are so many things to see and do in an Apple store–where to begin?
First, if you're in the market to buy an Apple product, an Apple-owned store is the best place to find it on display where you can touch it, examine it and use it without anyone bothering you. Part of the philosophy of the stores is to let visitors wander through the store without being chased down by a salesperson. The Apple staff will let you explore the products to almost any degree, so this is your chance to see how they really feel in your hand and operate with live applications.
Some visitors find the staff's "hands-off" attitude a bit perplexing, especially when you really need help. But most appreciate the ability to poke around the store without attention while they make a purchase decision. So, when you're ready to buy, just walk up to a staffer and let them know, "I'm ready!"
If you need some assistance in making your buying decision, the Apple stores offer a couple of options. First, you can simply ask. Since Apple store staffers work without commissions, they're not likely to steer you to a product that doesn't meet your needs. In fact, they'll begin a buying conversation with a series of questions to narrow down how you intend to use your computer and what you want to create.
If you'd like a more formal buying experience, Apple stores offer by-appointment Personal Shopping, during which you'll get to ask questions, test-drive products and get advice from a Specialist, all without obligation.
By the way, Apple says over one-half of the Macs sold in its stores goes to those who are "new-to-Mac." If you're a PC user, bring in that Windows machine when you purchase a new Mac laptop, and the staff will be happy to transfer the appropriate data files over to your new computer, including e-mail, Web bookmarks and Word documents. The store techs can also install memory upgrades for your new computer.
The stores also carry a rather comprehensive line of third-party products, including hard drives, iPod speakers, headphones, software, printers, scanners, carrying cases and books.
Once you have an Apple product, your store experience isn't over. There are loads of other resources available to help you become more creative and extend your capabilities, most of them free.
First, you can drop in to one of the store's periodic special events. Stores in larger cities have theater areas that host live music performances, presentations by experts and user group gatherings. You can find these events by checking each store's on-line calendar (the New York City stores host some rockin' events!).
Apple stores also host free events for children–Apple Camp during the summer, workshops during Spring break and Christmas holidays, and Field Trips from September to November.
If you use your Apple product for business, the stores offer free advice and consultation on the right hardware and software, upgrades and more.
And Apple offers the best value in computer training anywhere–the One to One program, which offers you one hour of training each week for an entire year for just $99. You make an appointment, pick the topic, bring in your laptop or use a store computer, and have an expert teach you something new.
Despite Apple's reputation for durable hardware and reliable software, things happen. And that's why the Genius Bar was invented. It's where you can get technical help from someone with lots of troubleshooting experience.
But a warning–the Genius Bar is very popular. Apple customers love being able to talk to a live person and receive a resolution to their problem. This popularity required Apple to develop an on-line reservation system to insure everyone gets their shot at a Genius.
If you need in-person support, surf to Apple's Web site from home, and use the Concierge system to make a reservation at your local store. If you show up without a reservation, you can still sign-up at the store, but the wait may be substantial. A "slip-in" appointment sometimes pops up–but don't count on it.
Now, here are my tips for being a "good customer" at the Genius Bar. First, the term "Genius" doesn't give you license to test the employee. Give them a break. Second, be prepared to explain the symptoms of your problem and what diagnostics you've already performed. After that, let the Genius ask you questions to help narrow down the problem.
My sources say that explaining your problem in a friendly and calm way will get you much further than if you come busting into the store with a furrowed brow. The Genius actually wants to solve your problem, so give him/her a chance.
Sometimes it's a hardware or software problem that's easily remedied, and you're on your way quickly. In other cases it may take some time to diagnose the problem, even taking a day or two.
Next, be prepared for the answer. The Genius is empowered to make your problem right, but this doesn't include free stuff. Don't expect a new computer because you dropped the old one. If you didn't buy the AppleCare warranty, don't expect Apple to replace the screen of your 5 year-old laptop. You may have to pay for some repairs caused by damage or other problems that aren't covered by the warranty.
Apple's policy on iPods is slightly unusual–there are no iPod repairs. If your iPod doesn't work and it's under warranty, you're given a new (refurbished) iPod–that's it. In fact, even if your iPod isn't under warranty, there's a chance you'll get a replacement if the problem isn't related to physical damage.
Computer repairs are a different matter. Almost all repairs are now done at the stores, some taking just a few minutes, while other could take up to 72 hours. There have been confirmed stories of "lemon" laptops being replaced, sometimes even with a newer model. But in general, expect to have a hardware problem repaired, not replaced.
If your laptop is really important to you, consider Apple's ProCare service, which for $99 a year offers priority repairs, free set-up, yearly tune-ups, advanced repair reservations and head-of-the-line privileges for tech questions.
As the holidays and gift-giving season approaches, there are a couple of ways to make your money go further when buying Apple. First, you may qualify for a year-round student discount, especially if you're a K-12 teacher or staff, or a university/college student. Typically, you'll save between 10% and 15% if you can show student ID when making your purchase on computers and iPods.
Also keep your eye on the Apple's Web pages for Black Friday deals. Apple is legendary for not offering discounts, except on this traditional, post-Thanksgiving shopping day. In past years, the discount has been from $100 to $200 on certain laptop models, and from $20 to $50 on iPods.
Apple may also dream up some product bundles this year that will offer savings, possibly including computer-printer combinations, or an iPod-case deal. Apple is already offering free engraving for iPods to encourage sales.
Just remember that visiting an Apple store can be much more than a buying trip. The stores are very much the headquarters for Apple's enthusiastic customers. Take Apple at their word that the stores are an experience, not a destination.
Apple has lots of Web pages about the retail store offerings at:
——
Gary Allen was an early adopter of personal computers, having owned an Apple II+ and original IBM-PC back in the late 1970s. He also purchased the first Macintosh model in 1984, and has had a succession of Macs since then. He and his son Devin started attending Apple store grand openings in 2001, and met so many interesting people that he started a Web site to share information about the stores. The pair have camped out overnight at store openings in London, Tokyo, Sydney, Beijing and several U.S. cities. Gary says he receives e-mail about Apple's stores from enthusiasts in scores of countries around the world, confirming that he's not the only one crazy about Apple retail.
(The "ifo" stands for "in front of, which is where Gary probably is now.)
——-
Photo: The IFO workspace (l. to r.): Time Capsule 1Tb hidden behind 23-in. Cinema Display linked to a Mac mini; original iPhone 8Gb; the Webmaster with some of the many grand opening T-shirt boxes he's collected; 23-inch Cinema Display linked to a dual 2.0-GHz Power Mac G5; La Cie and W-D external 250 Gb hard drives for back-up; H-P 4240 printer; commemorative Ginza (Tokyo) grand opening T-shirt framed on wall. Not shown: 2002-vintage 800 MHz Powerbook Titanium.
Advertisement