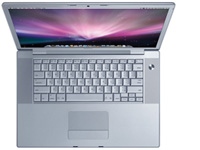 MacMall is having a closeout on MacBook Pros, with prices as low as $1,399. You won't get the latest version of the MacBook Pro at that price, but it's a viable option if you're on a budget.
For $1,399 (after rebate) you can get the 2.2GHz MacBook Pro with 2GB of RAM, 120GB hard drive and 128MB NVIDIA GPU. This is $600 off the original price and looks identical to the current MacBook Pro models.
Check out the sales page for full details.
Advertisement