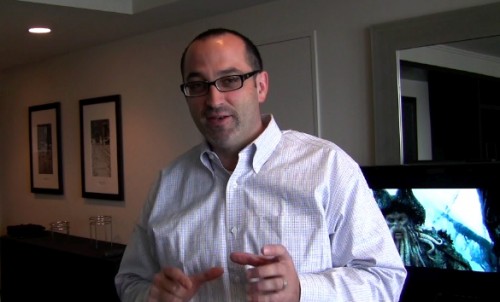 Pat Moorhead, AMD's vice president of advanced marketing, demonstrates the difference between Intel and ATI integrated graphics. The differences between the two notebooks are very noticeable and anyone trying to decide between an Intel and AMD system should take a look at the following video.
Pat attached two HP Pavilion dv5 notebooks, one with AMD technology (Puma) and one with Intel technology (Montevina), to a pair of HDTVs. He then played a Blu-ray disc and Iron Man on each system. Both were configured with integrated graphics, just like the majority of notebooks sold at retail stores like Best Buy. The AMD notebook had ATI Radeon HD 3200 graphics, while the Intel notebook had an Intel Graphics Media Accelerator X4500.
While the AMD notebook played the Blu-ray disc smoothly, the Intel machine stuttered repeatedly, killing the HD experience completely.

Pat then ran Iron Man, a video game with 3D graphics. Again, the AMD-based HP Pavilion dv5 played the intro to the game flawlessly. On the other hand, playback on the Intel-based notebook was unwatchable, with huge chunks of the scene missing in action.
In no way does this demonstration determine which platform is superior overall, as Intel-based notebooks have been shown to have superior battery efficiency and are faster in some departments, but take it into consideration if video gaming or high-def playback over a large external display is a priority for you. This is especially important if you're considering a notebook with a Blu-ray disc player.
Ideally you'd want a notebook with a dedicated graphics solution if gaming or HD video really matters to you, but budgets are budgets.
Advertisement