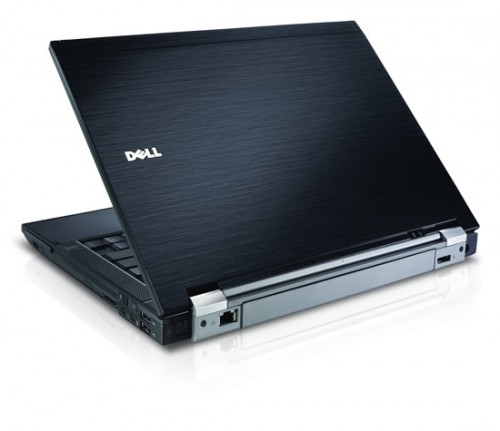 Dell's completely revamped its business notebook with the Latitude E-Series, with the Dell Latitude E6400 and E6500 are the most mainstream of the bunch. But the Latitude E6400 stands out from the rest of the line with an incredible 19-hour runtime on a single charge.
The first thing you'll notice about the Dell Laitude E6400 is that Dell's put in several design touches that make this notebook much more attractive and functional compared to previous Latitudes. Its Mica-brushed metal finish has a much more 'premium' appearance and will be available in black, red and blue. This is the first time Dell's offering color options on a business notebook line.
Dell has announce an update to the Dell Latitude E Family of notebooks including the Dell Latitude E6420, Dell Latitude E6520 and the rugged Dell Latitude E6420 ATG.
Dell Latitude E6400 Pricing
The Dell Latitude E6400 starts at a reasonable $1,139 in its base configuration, which includes 1GB of RAM, integrated graphics, Intel Core 2 Duo processor ( P8400 2.26GHz, 3M L2 Cache), a DVD player/CD-RW combo drive, 80GB hard drive and Vista Home Basic.
The Dell Latitude E6400's base configuration isn't ideal for most business users however, and I recommended to paying a little extra to get the most out of an E6400. I recommend either Vista Business ($99) or Vista Business with Windows XP downgrade ($99). Upgrading to 2GB of RAM ($40) and a 160GB ($45) hard drive is also recommended. For $1,323 you can walk away with a very capable business notebook.
Adding all of the high-end options, including the battery slice, the most powerful processor and graphics options can spend over $3,000 on a Dell Latitude E6400.
Dell Latitude E6400 19-hours of Battery Life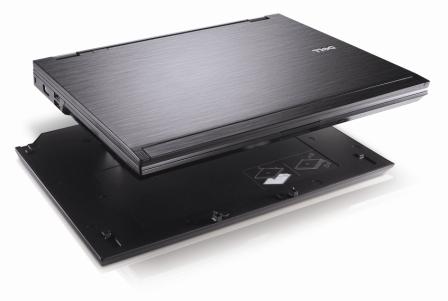 The Dell Latitude E6400 can get up to 19-hours of run time to get over-worked workers through very, very long days on the road. The claimed 19-hours is achieved by combining a 9-cell battery that protrudes from the rear of the E6400 with a 12-cell battery 'slice' that attaches to the bottom of the notebook. In order to acheive the 19-hour battery mark you'll need to order the E6400 with a LED display, a solid-state drive and integrated graphics.
This kind of battery life should please all but the most crazed workaholic road warrior.With this configuration should still have enough juice to put in a full day at the office, work for an hour while waiting for a flight and still have plenty of power to work through a cross-country flight.
The Dell Latitude E6400 9-cell battery is a $99 option and the 12-hour slice is a $399 option.
Del Latitude E6400 Drive Options
The standard E6400 drive is has a relatively meager 80GB of storage capacity and spins at 5400RPM, but there are a full range of drive options on this model.
High performance 7200 RPM drives can be added in increments up to 250GB ($150). There's also a 120GB full-disk encryption drive available for $139.
There is a 64GB solid state drive available for $649, but I don't recommend it unless you have very specific demands and deep pockets. Solid state drives with 128GB capacities will become the norm in the coming months and the benefits of SSD are still being debagted.
Dell Latitude E6400 Processors
The E6400 uses Dell's latest Intel Centrino 2 technology, which includes Intel Core 2 Duo processors. The base 2.26Hz processor with 3MB of L2 Cache will suffice for most users, especially if your work day consists of email, spreadsheets and Microsoft Office applications. Those looking for more performance should skip over the 2.4GHz option to the T9400 ($190), which offers 6MB of L2 cache and has a clock speed of 2.53GHz.
Dell does offer the Intel Core 2 Duo T9600 for $390, but only those that need to squeeze every ounce of performance out of their E6400 should consider it. As usual, there's a steep premium for ordering the top of the line, and relatively short-run, processor.
Dell Latitude E6400 Display and Graphics
The standard Dell Latitude E6400 display has a resolution of 1280×800 (WUXGA), but many users will prefer the optional ($129) LED backlit display, which draws less energy and has a resolution of 1440×900 pixels.
When you configure a Dell Latitude online you'll also select which color lid you want under the display option. Be careful to select both the proper resolution and color you want here. In my option, Dell should break color and display choice into two separate boxes to avoid any confusion.
Intel's GMA 4500MHD integrated graphics is standard and is much improved over previous integrated solutions. There's only a single dedicated solution, the NVIDIA S 160M, which adds $70. When selecting a graphics option you'll also need to select either a PC-Card slot or Express Card slot.
Dell Latitude E6400 Ports, Wireless and Accessories
The E6400 has a variety of wireless options. Mobile broadband subscribers can opt for either an EVDO/GPS card or an HSDPA/HSUPA/GPS card. The E6400 can also be configured with Bluetooth and UWB. Standard configurations come with 802.11g, but there are several 802.11n options available for faster connections and improved range.
The E6400 comes with a FireWire port, four USB 2.0 ports, VGA, Display Port, Ethernet port, eSATA, 5-in-1 memory card reader and either a PCMCIA slot or an ExpressCard 54 slot. An integrated Webcam and microphone are optional.
Dell's E6400 is compatible with a variety of docking solutions including the E-Port, E-Port Plus, E-Legacy Extender, E-Flat Panel Stand, E-Monitor Stand, E-View Laptop Stand and E-Media Bay.
Dell Latitude E6400 Warranty
Like all other Dell Latitudes, the E6400 comes with a standard three-year warranty, with mail-in service. For $99 you can upgrade to next-business day on-site service. For businesses without IT staff you can opt for Dell ProSupport, which gives you access to 24×7 support for both your E6400 and some third-party software for three years.
Dell Latitude E6400 Dimensions
The Dell Latitude E6400 weighs in at 4.3 pounds, making it about 20% lighter than 15.4-inch models. It measures 1-inch thick at it's thinnest point and 1.2-inch at its thickets. The Latitude E6400 is 13.1-inches wide and 9.37-inches deep.
Check out the official Dell Latitude E6400 product page for more info and current deals.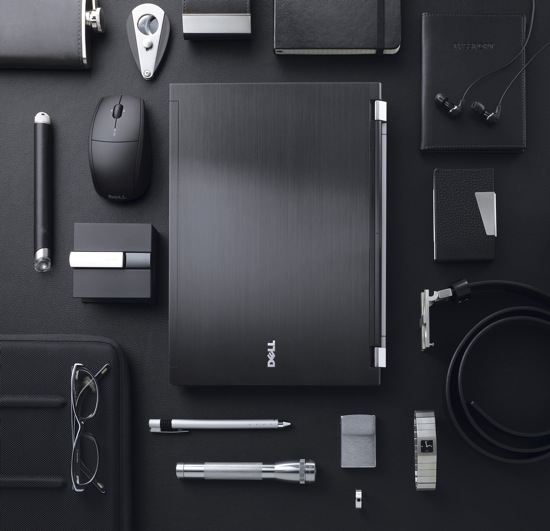 Advertisement