The MacBook Air's stirred up some interesting discussion about what's expected of an ultraportable notebook. Lenovo's answer is the ThinkPad X300 series, which features a 64GB solid state drive, three USB ports, a DVD burner. Not bad for a 2.5 pound package.
Pound for pound, the ThinkPad x300 has a lot more features than the MacBook Air and is up to half a pound lighter, depending on configuration. The ThinkPad X300 series hasn't been announced yet, but our friends over at Gizmodo got their hands on the specs and details early. I haven't confirmed the details with Lenovo, but this presentation may be a little out of date (notice the Cingular reference). The X300 will have a range of wireless options, including Verizon EVDO Rev. A and HSDPA from AT&T.
One thing Lenovo's definitely got right with the X300 is a removable primary battery and an optional secondary battery that can be swapped for the optical drive. Each 3-cell battery is good for four hours of runtime, for eight total. it's also good to see the X300 has three USB ports, one of which can be used for a USB port replicator.
The Lenovo X300 series looks like it's much more in tune with the needs of mobile professionals than the MacBook Air.
The X300 has a laundry list of features that are missing from the MacBook Air, including:
-3 USB ports
-Integrated DVD burner (MacBook Air's an external $99 option)
-Standard 64GB Solid State Drive ??? (the 64GB SSD on the MacBook Air is a $999 option)
-WiMax, WWAN (Verizon EVDO Rev A., Cingular HSDPA)for mobile Internet connectivity
-UWB (Wireless USB)
-USB Port Replicator
-up to 4GB of RAM, user upgradeable(The MacBook Air has 2GB of RAM and is not upgradeable)
-Kensington lock slot
-Microphone jack
-ExpressCard Slot
-Ethernet port
-GPS
-Removable battery
-Optional secondary battery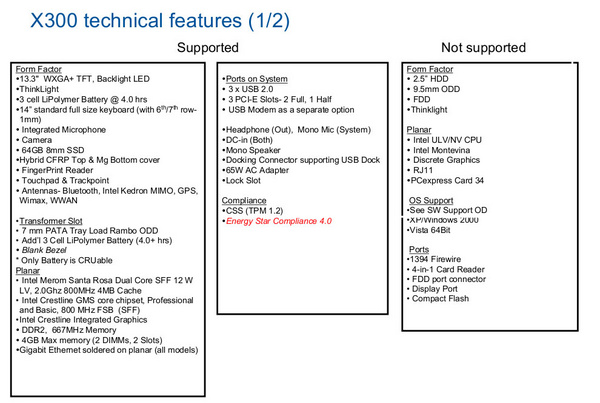 Advertisement