If you really, really, really want a Dell for Christmas you can beg for one digitally. Dell's hired Brooke Burke, Chuck Liddell, Vivica Fox, Ice T, Estelle Harris and Burt Reynolds to help pitch your holiday wish for a new computer. Dell's YoursIsHere.com helps you spam your entire address book with videos of the celebrities awkwardly talking about tech and a PayPal donation cup so people can contribute to your new system.
This has got to be the cheesiest way ever invented to ask someone to help buy you a computer. I guess this is an option if you're completely broke and don't want to settle for a Black Friday special.
You first select which product you want for the holidays, then chose a celebrity you think will convince your friends and family to buy it for you. The canned messages are way too long and are pretty dry. I chose an XPS notebook at YoursIsHere.com and entered my email address to set up the $1,700 donation cup.
Burt Reynolds tells people to not buy small gift. He suggest to figure out what you were going to buy that special someone and just contribute an equivalent amount of cash towards a Dell. Ice T does a goofy silky-smooth sales routine, Vivica Fox gets sassy and Brooke Burke rolls around in bed with some bunnies. Estell Harris tells people reminds viewers that they always give thoughtless gifts.
Chuck Liddell's video was the only one that grabbed my attention, but that's because it starts with him beating a punching bag. Chuck was one of my kickboxing instructors back in college and my jaw still hurts from the beating he gave me the last time I sparred him (true story). Unfortunately, I can't say I ever had any physical contact with anyone else in this ad campagnââ€Â â€Åââ€Â â€Åââ€Â â€Åââ€Â â€Åââ€Â â€Åââ€Â â€Åââ€Â â€Åââ€Â â€Åââ€Â â€Åââ€Â â€Åââ€Â âہ
I guess some people will find YoursIsHere.com cute and get them in the buying mood, but this site is pretty tacky in my opinion. The worst part of it is it can automatically import your GMail, Hotmail, Yahoo and AOL contact lists. If you're going to actually go through with this, you probably shouldn't send it off to everyone you know. Have some tact and send it to the short list of people who won't ridicule you for passing a virtual tin cup around to get a notebook.
By the way…. if you really want to buy me a Dell XPS M1330 for christmas feel free to send money to my PayPal account [email protected] – (see how tacky that sounds?)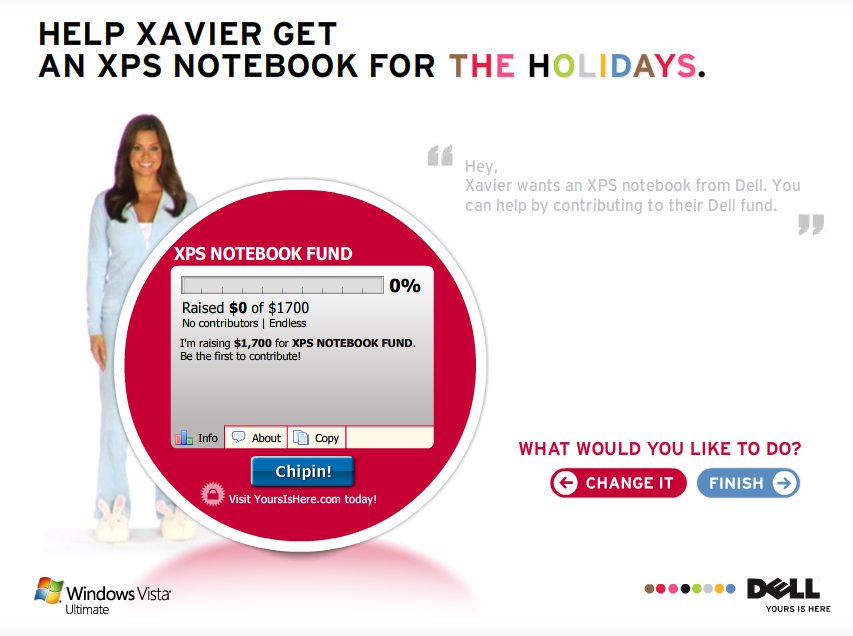 Advertisement