There aren't any significant discounts on MacBooks or MacBook Pros for Black Friday, but there's a killer deal at Fry's Electronics on the 20-inch iMac.
Usually priced at $1,449, the 20-inch iMac has a 2.4GHz Core 2 Duo processor, 320GB hard drive and the ATI 2600 PRO GPU wth 256MB of video RAM. It's equipped with an 802.11n wireless card so you can easily network it with your notebooks.
I know this is off topic, and we pretty much ignore desktops here at Notebooks.com, but this deal is too good to pass up if you happen to live near a Fry's store.
Apple rarely discounts products and seems to hold a magic spell over its retail partners, preventing them from advertising low prices like this.
There's no word on how many will be available at each Fry's store.
Apple is teasing us with a Black Friday email, but it doesn't give ANY details on any discounts. I think it will be unlikely for them to discount the MacBook and MacBook Pro. Instead, they'll probably throw in some extra freebies with the purchase of a system.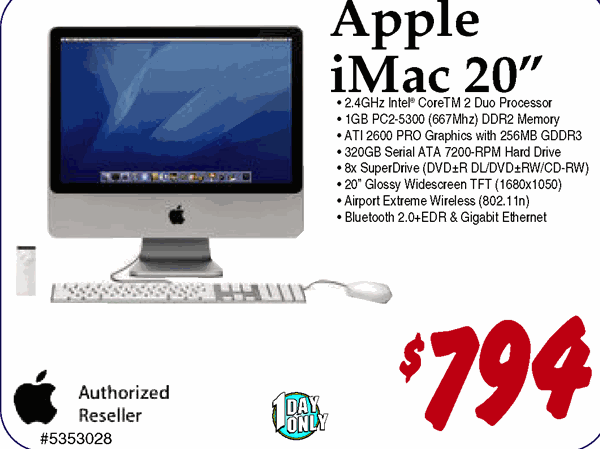 Advertisement