PC MicroWorks Corporation introduced the Black-Hawk XR5 Quad Core Super Notebook. The company claims the XR5 is first the notebook to utilize dual NVIDIA Geforce Go 8800GTX GPUs in SLI mode. This notebooks has some extreme specs, including triple hard drives and available Core 2 Quad processors under its carbon-fiber lid.
The 17-inch Black-Hawk XR5 has the power normally reserved for desktops, which isn't surprising considering it's built on a desktop platform. This makes it possible to upgrade its PCI express graphics cards, processor, memory and hard drives.
The Black-Hawk XR5 starts at $2,779, but upgrades to 4GB of RAM, 750GB of hard drive capacity, Blu-Ray Disc RW burner, an EVDO or HSDPA WAN card, GPS adapter, TV tuner and dual operating systems can push the price north of $6,000.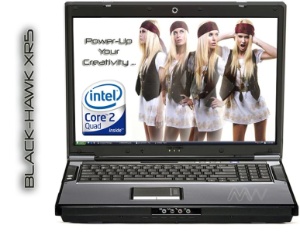 Here's the specs on he XR5 you can configure for $6120:
Intel Core 2 Duo E6750 (2.66GHz/1333MHz/4MB)
4096MB Ultra Speed DDR2 800MHz Extreme Performance Memory
750GB @ 16,200RPM SATA150 Storage RAID 0 (3 x 250GB 5400RPM)
No External Storage
HD Blu-Ray-RW Dual Layer Next Generation Drive
SLI Dual nVIDIA Geforce GO 8800GTX 1GB DDR3 X-TREME GPU **Will ship in Dec.**
17″ WUXGA+ 1920×1200 Ultra Resolution GlassVision Wide Screen Cinema Display
8 Channel Advanced SRS WOW Surround Sound System
High Speed 10/100/1000 Mbps Gigabit Networking Adapter
Internal High Speed V90k Dial Up Modem
Built In 802.11AGN 300mbps Ultra Speed Wireless Adapter
Integrated Advanced Bluetooth Wireless Adapter
Included Advanced HSDPA High Speed Internet Connection (Subscription Required)
Included GPS Location Technology Adapter
Advanced TV Tuner + Remote Control
Advertisement