T-Mobile's offering free roundtrip flights to new 'myFaves' customers from November 23 to 25. Existing customers can switch to or renew their myFaves contracts can 'Fly Free' to 10 U.S. destinations. This is a great Black Friday deal, but customers will have to jump through a few hoops to actually get their tickets.
The flights are good from 59 major U.S. cities to New York, Boston, Washington DC, Chicago, Miami, Orlando, Dallas, Atlanta, Las Vegas or Los Angeles.
T-Mobile is also giving away 5,000 tickets to existing myFaves customers in a sweepstakes. No purchase or contract renewal is necessary to win these tickets.
Details at T-Mobile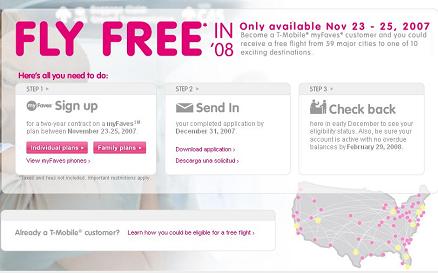 via BGR
Advertisement