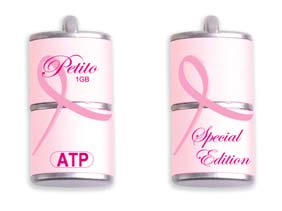 ATP is partnering with Susan G. Komen for the Cure with the creation of ATPâ€â"¢s Pink Ribbon Special Edition of its Petito USB drive series. A percentage of the retail sales price of the Pink Ribbon Petito USB drives will be used to support the organization in funding research and supporting education, screening and treatment projects in communities around the world.
The Pink Ribbon Special Edition Petito USB Drive is available immediately at Staples, Target, Costco, and other retailers in 512MB, 1GB, and 2GB capacities.
âہ"As a leader in the technology marketplace, we were excited about taking the initiative in contributing to this important cause,â€Â said Michael Plaksin, ATP Vice President of Sales. âہ"The Pink Ribbon Special Edition of our Petito USB Drive presents an opportunity for our consumers to make a change in someoneâ€â"¢s life and proudly display their support of this critically important cause. With this innovative device, they have the unique ability to keep the all the memories of their loved ones, who have been affected by the disease, close at all times.â€Â
Props to ATP for supporting cancer research and if you're going to throw down a few bucks on a USB drive, you might as well support Susan G. Komen for the Cure.
Advertisement