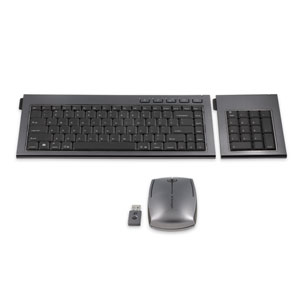 Kensington announced 20 new products today, including an assortment of SlimBlade notebook accessories. One interesting product is the SlimBlade Media Notebook Set, a module system that consists of a wireless keyboard, numeric keypad and wireless mouse. An optional SlimBlade Media Remote can be added to the mix.
Users can swap the placement of the modules- putting the numeric keypad to the left of the keyboard would be great for lefties. The modules are magnetic to keep them in place.
"Consumers want functional computing accessories that seamlessly integrate with their mobile lifestyles and reflect their individual personalities,â€Â said Kensington's President Boris Elisman. "Thorough market research allows us to gain insights that contribute to our making products as unique as the individuals that use them.â€Â
The Slimblade Media Notebook Set's keyboard has a low profile and hotkeys for both Mac and PC users. The mouse automatically goes to sleep whenever the keyboard is off to prevent battery drain.
Kensington includes a 5-year warranty on its Slimblade products.
The Kensington Slimblade Media Notebook Set will retail for $129 at Amazon.com
and other retailers starting today.
-Wireless multimedia keyboard
-Wireless laser mouse with 360º Scroll Ball
-2.4GHz wireless – up to 30 ft. range
-17-key wireless keypad
-1 micro USB receiver for all modules
Advertisement