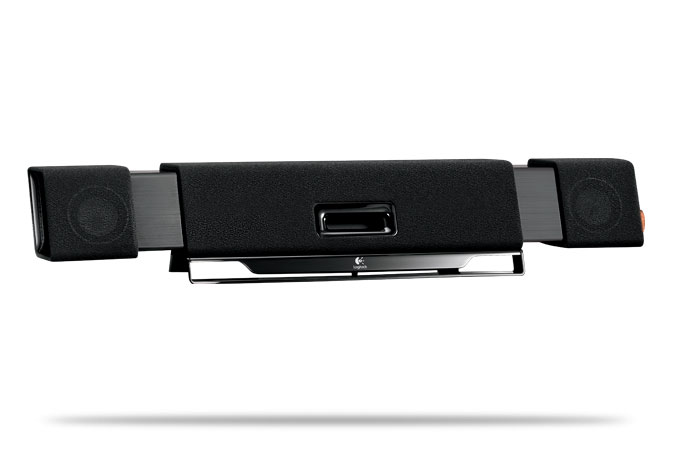 Last week Logitech announced the Audiohub, a new speaker system with an integrated USB hub and webcam stand. We got ahold of an early review unit and were pleasantly surprised by the design and sound quality of the AudioHub.
âہ"Today, a broad range of people â€âہ not just traditional road warriors â€âہ are using their notebooks as their primary home computer and digital music platform,â€Â said Tim Leehane, director of product marketing for Logitechâ€â"¢s audio business. âہ"As this trend grows, people are adding peripherals â€âہ for example, webcams and wireless mice â€âہ to their notebook stations. The Logitech AudioHub provides an elegant, one-stop notebook solution that allows people to manage their peripherals and enhance their listening experience.â€Â
Overview and AudiHub Features
Order the Logitech AudioHub from Amazon.com for $99.99 and get free shipping
The AudioHub speakers system is designed to be sleek and low profile so it can fit in any room of your house. The AudioHub is about 3.5-inches tall, with two mid-range speakers and a subwoofer. The AudioHub takes up very little desk space, sliding mostly into the void that's left when you tilt your notebook's screen backwards.

The AudioHub has an integrated three-port USB hub and connects to your notebook with a single USB cable. This makes it easy to attach your peripherals, such as the AudiHub, printer, iPod and digital camera, with a single USB plug. Power is drawn via an AC adapter.
The detachable webcam stand brings your external webcam up to eye-level. There are two pair of fixed pegs to wrap cables around. The only control on the AudioHub is a volume dial.
The AudioHub is easy to setup and is configuration free on both Macs and PCs.
Performance
The two-inch midrange speakers slide out from the subwoofer about an inch and a half to accommodate different sized notebooks. I tested the AudioHub with my 15.4-inch MacBook Pro, the largest sized notebook that can fit in front of the speakers without covering the speakers. The sliding speakers can be adjusted so they frame smaller notebooks.
The subwoofer is located in the middle of the unit and fires downwards. The three-inch driver provides plenty of bass and reproduces deep tones well. While listening to Ray Charles' Genius Loves Company on iTunes at 100% volume there was no bass distortion. When I switched over to a hip-hop channel on iTunes the subwoofer was fine with the volume as high as 80%. Any higher than that and the amped-up bass became distorted.
The AudioHub won't give you the sound you'd expect from a larger 2.1 speaker system, but it is more than loud enough for a large room or small apartment. The AudioHub's 15 watts sounded much louder than I expected before plugging them in.
Left/Right channel separation was adequate while seated in front of my notebook, but since this is an all-in-one system the small speakers are relatively close to each other meaning things sound a bit mono if you're across the room. It's important to remember the AudioHub is optimized for convenience and looks, and will disappoint wanna be audiophiles.
Athstetics
This speaker system is one of the few products we've received that actually looks better in real life than in marketing beauty shots. The AudioHub almost disappears against my black desk…except for the obnoxiously colored volume dial.
For some reason Logitech chose to stick an orange LED behind the clear volume dial on the right side of the speakers and it sticks out like a sore thumb. Orange LEDs are typically used in gaming rigs and this just looks out of place on an accessory that's supposedly designed to fit into any home's decor. Many people won't be bothered by this, but multicolored LEDs are starting to make my office look like it's decorated with Christmas tree lights. I understand the need for a LED on the dial, but Logitech should have gone with white on this product.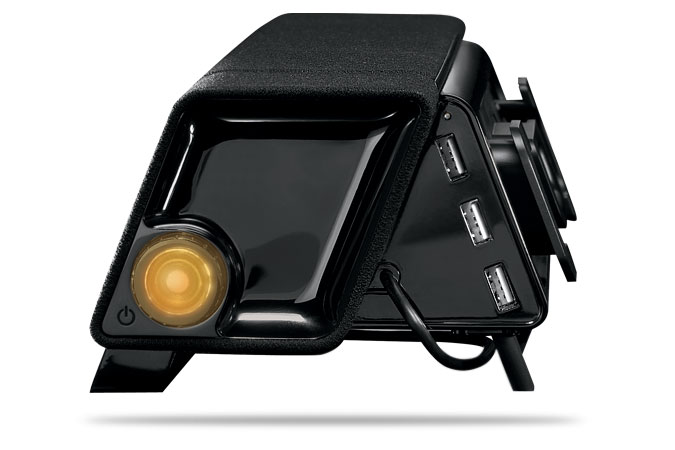 Thankfully, the webcam stand is detachable as many notebook users already have built-in webcams and the stand is an eyesore. Notice in the below "lifestyle" photo of the stand the stand isn't visible. Logitech could have made this part of the AudioHub much more attractive by slimming it down and giving it the same wood-grained finish found on other parts of the speaker.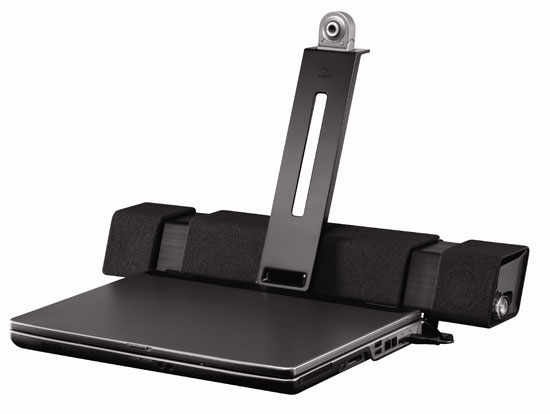 Despite this two minor flaws, the AudioHub is MUCH more attractive than most computer speakers. The system can really cut down on cable clutter and it's much more portable than systems with satellite speakers and a separate subwoofer.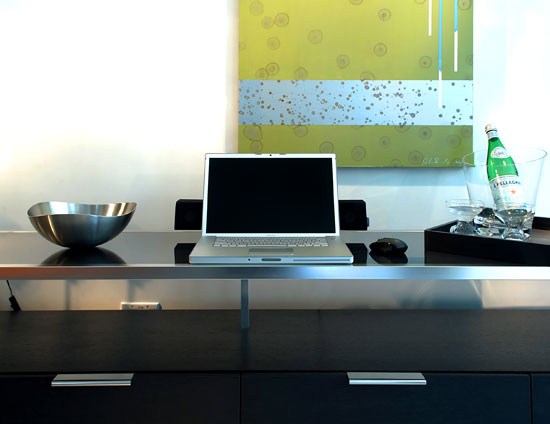 Recommendation
Users who want the best sound for their money should look at speakers with more power and multiple mid and high-range drivers. But those looking for a great balance between appearances and performance will be pleased with the AudioHub.
If you don't care about looks, you should avoid the AudioHub as there's definitely a price premium for its slick looks. This should be one of the first products to look at if you want big sound, but still need to keep your work or living space tidy.
The Logitech AudioHub notebook speaker system will be available in the U.S. and Europe beginning in October, for $99.99.
The AudioHub can now now be ordered from Amazon.com for $99.99 with free shipping.
Advertisement