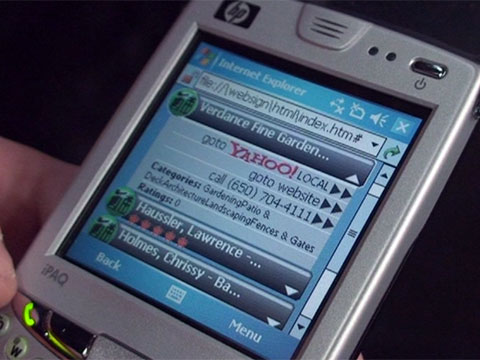 –
Philip McKiney, CTO of HP's Personal Systems Group, gave notebooks.com a demo of Websigns, a location based service (LBS) that merges location with local search and Web 2.0 content. The system combines a digital compass with a GPS-enabled PocketPC to search the web by pointing the device at any location.
more video below
Websigns could prove to be the ultimate local search advertising system because the it will be able to determine exactly what users are doing out in the real world. It's an innovative way to search for information with minimum user input.
If a user pointed at a restaurant he could instantly read reviews, book reservations or an ad could invite him in to try today's specials.Users pointing at a gas station could receive info about nearby locations with cheaper prices.
McKiney showed us a demo that pulls local info from Yahoo! mobile search, but this technology could be integrated with any web service. Web Signs is being developed by HP Labs.
Advertisement