Lexar's new ExpressCard solid state drives (SSD) offer a convenient storage and backup solution for notebook users. Lexar officially announced the new 4GB, 8GB and 16GB ExpressCard SSD today, which can be used as ReadyBoost drives on Vista notebooks.
We got our hands on a 8GB one last week and tested it out to see if it's worth its hefty price tag of $199 (4GB is $129, with the 16GB coming later this year). To put the price in perspective, you can easily purchase a portable external 100GB HDD for the same price or less. Expect prices to drop quickly, some retailers are already offering the 4GB version for $89.
Lexar is marketing the ExpressCard SSD drives as high performance, but it didn't feel all that snappy compared to my notebook's hard drive or my USB thumb drives. A benchmark utility showed that the 8GB ExpressCard SSD was only writing at 1.7MB per second, or at about 25% of the speed of a Lexar JumpDrive, which writes at 8.6MB per second. The ExpressCard writes at 14.1MB per second on my notebook, which is about 20% faster than the Lexar JumpDrive. If you want blazing-fast write speeds, then avoid the the ExpressCard SSD.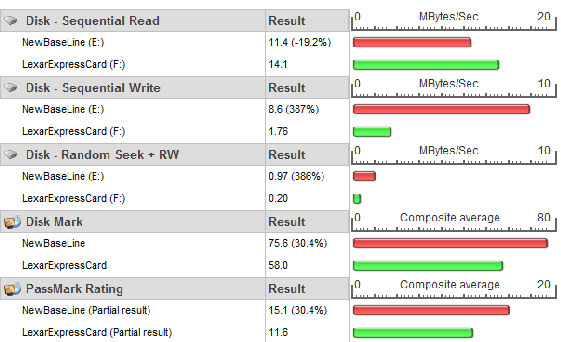 The Lexar ExpressCard SSD's main selling point is convenience. I frequently use ReadyBoost using a thumb drive when at the office or at home, but absolutely hate how thumb drives stick out and just just beg to be knocked out of the USB port. Pockt drives can also be a hassle since you have to deal with a USB plug. The ExpressCard SSD on the other hand stows neatly in the ExpressCard slot, completely out of the way and enables up to a 4GB ReadyBoost cache file.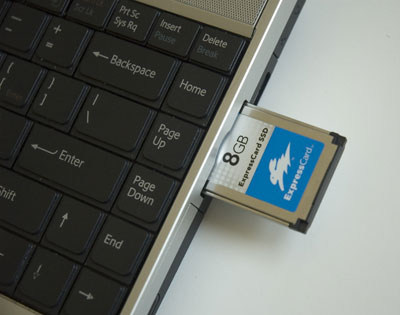 There's a free backup utility called auto backup software that comes preinstalled on the ExpressCard SSD. It's simple to use and allows users to dictate which folders and file types to backup and which file types to ignore. The backup utility can be configured to work on each of your notebooks and will run automatically either manually, daily, weekly or monthly.
I often create dozens of documents or dump hundreds of photos onto my notebook while I'm traveling or working remotely. If something were to happen to my hard drive, I'd lose all those photos that never made it home to be backed up. I configured the ExpressCard to backup my 'New Photos' folder, where I dump all my pics before I edit and sort them, and all Word and Excel documents folder. The software worked flawlessly, but keeping backups inside your notebook is risky since a lost computer, means lost backup files. If you use this solution, make sure you remove the ExpressCard SSD before traveling or leaving your notebook unattended.
Overall I like the ExpressCard SSD's ease of use and convenient form factor, but the slow write speeds were extremely frustrating. It's definitely a great alternative to thumb drives assuming all of your machines have ExpressCard slots. USB solutions can be a better choice if you need to transfer files to a desktop.
I'd recommend this product to anyone that's on the go and needs ReadyBoost and a convenient backup drive, but doesn't demand performance. The convenience and form factor make up for the slow write times and high price tag. We look forward to seeing this form factor of drives improve in performance and price later this year.
Advertisement