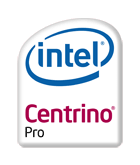 Intel announced a new brand of mobile processor technology for business notebooks. Intel Centrino Pro will extend the features designed for desktop business PCs called Intel vPro processor technology into its forthcoming high-performance notebook offering. IT departments will be able to reliably manage both desktops and notebooks and deal with what plagues them most- security threats, cost of ownership, resource allocation, and asset management — and do so wirelessly.
"Intel Centrino Pro processor technology brings the best of our offering with Intel vPro processor technology and adds it right into our highly successful Intel Centrino brand for laptops," said Mooly Eden, vice president of Intel Mobile Products Group. "This is an ideal time for this product as we continue to see notebook penetration rates increasing in business."
IT managers will be able to reliably manage and secure notebooks remotely over 802.11n wireless connections.
Intel Centrino Pro technology will be available in business notebooks starting in May.
Advertisement