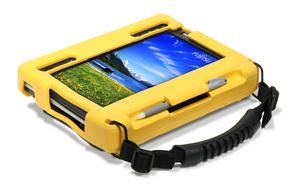 Fujitsu Computer Systems Corporation today introduced the first pen-enabled notebooks with solid state drives (SSDs). As of today, the LifeBook P1610 and LifeBook B6210 are now available with either 16GB or 32GB SSDs.
The 2.2-pound LifeBook P1610 convertible touch screen notebook and 3.2-pound LifeBook B6210 touch screen notebook are now offered with two flash-based SSD configurations, 16 GB or 32 GB. SSDs offer lower power consumption, added ruggedness, high reliability, and improved performance.
"On-your-feet workers need to protect their tools without interfering with the product's usability or adding significant cost," said Paul Moore, senior director of mobile product marketing, Fujitsu Computer Systems. "By offering SSDs along with rugged cases, Fujitsu provides a superior solution for environments where rough handling of notebooks is inherent in the workplace."
In addition to providing better durability and data protection than traditional hard disk drives, SSDs are quiet and generate less heat. The 16GB drive will cost $700, and the 32GB will cost about $1,200, pretty severe no matter how you look at it. Fujitsu will still offer up 80GB rotational hard drives with the LifeBook P1610 and Lifebook 6210.
Fujitsu also introduced a rugged case (pictured above) to protect these tiny notebooks.
Advertisement