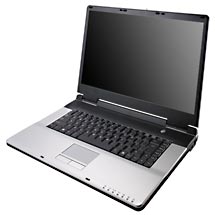 Walmart.com is offering the first sub- $500 Vista notebook weâ€â"¢ve found so far. The six-pound Everex StepNote VA4101M notebook ships with Vista Home Basic and comes with a 1.4GHz Intel Celeron M processor, 15.4-inch widescreen display, 512MB of memory, 60 GB hard drive and a DVD burner.
The Everex VA4101M has 802.11b/g, built in modem, three USB ports and VGA output.
The specs arenâ€â"¢t anything to jump up and down about, and you wonâ€â"¢t get the full Vista Aero experience with Vista Home Basic. As of right this is the cheapest Vista Notebook without dealing with any rebates or coupons.
For an extra $99 you can get the Everex StepNote VA4101M bundle which includes the notebook, a full 1GB of RAM, a case and mouse.
HP is currently discounting its Compaq Presario V6000T Series by $200, to come in at $499.
Walmart.com Product Page:Everex 15.4″ StepNote VA4101M Notebook, 1.4 GHz Intel Celeron M Processor 410
Advertisement