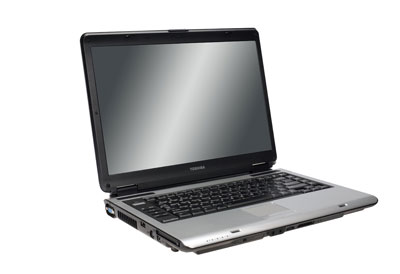 Toshiba announced the Satellite A135 notebook series today. The 15.4-inch widescreen Satelite A135 will ship in three flavors, starting at $899 and ranging up to $1,449. The Toshiba notebooks will ship with Microsoft Vista and optional dual hard drives. All of the A135â€â"¢s come with integrated graphics cards and multi-format DVD burners.The mainstream Satellite A135-S4467 ($999) will come with an Onyx BlueMetallic lid and features the Intel Core Duo Processor T5200 (1.60GHz, 2MB L2, 533MHz FSB), 160GB hard drive and 1GB of RAM.
The Satellite A135-S4427 ($899) is powered by the Intel Core Duo Processor T2250 (1.73GHz, 2MB L2, 533MHz FSB)and is equipped with a 120GB hard drive and 1GB of RAM. Both the Satellite A135-S4467 and Satellite A135-S4427 are preloaded with Windows Vista Home Premium.
The A135-S4499 has the beefiest specs, including an Intel Core 2 Duo Processor T5500 (1.66GHz, 2MB L2, 667MHz FSB with 64-bit),and 2GB of RAM. The $1,449 also buys you a copy of Windows Vista Ultimate. The Satellite A135-S4499 will be available for purchase on Feb. 20, 2007.
Advertisement