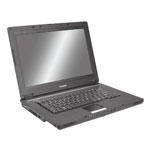 Best Buy will sell a Toshiba L35 15.4-inch widescreen notebook for $249 on Black Friday from 5am to Noon. The L35-s2151 comes with an Intel Celeron M 420 processor, 512 MB of RAM, 60GB hard drive and DVD-ROM/CDRW.
UPDATE: Please note that the notebook mentioned in this article is no longer available. For current sales and deals, please visit our Notebook Deals page.
The deal is only being advertised online and is not included in the newspaper ads for the post-Thanksgiving shopping bonanza. The notebook is available in-store only for $249 on Black Friday, which is a huge discount since it's normally $600.
Amazing deal if you're on a budget. As with all sub-$400 notebooks we've seen so far, the L35-s2151 has a shared video card and is not a good choice if you're into serious gaming. This machine should be fine for Internet, Office and basic photo applications. It does not come with a FireWire port for video editing.
Best Buy's Online Ads for Black Friday
Advertisement