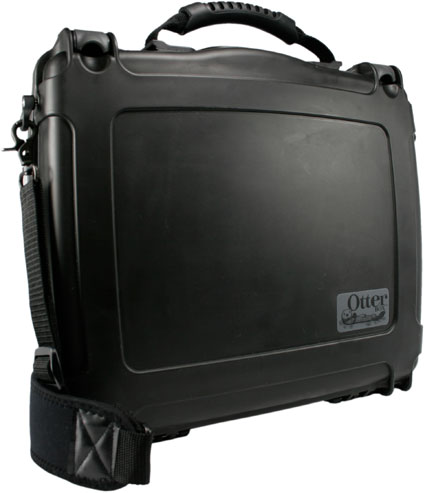 The OtterBox Rugged Laptop case is can stand up to almost any abuse you can throw at it. Or, if your prefer, you can just throw it. This case is all about safety and security, with no silly frills like iPod pouches or pen organizers. The hard-shelled case isn't the prettiest thing in the world , but it definitely does its job.
The OtterBox is made of a resilient plastic, similar to a football helmet and lined with Velcro. Three sets of rubber bumpers stick onto the lining and adjust to fit notebooks with up to 15-inch screens. A strap cinches the notebook in place.
Two heavy duty latches keep the case securely closed and there's a lock for extra protection. The one soft spot on the case is the neoprene strap, which is surprisingly comfortable and helps make up for some of the added weight.
 The OtterBox will keep your notebook safe from 4ft. drops onto concrete, or more likely clumsy baggage handlers. It is alsowaterproof and even floats, just in case you drop it while boarding your yacht. The case is rated to keep your notebook dry for 30 minutes at a depth of one meter.
Users can still use their notebooks in the case thanks to low-profile sides and a removable rubber plug on the bottom of the case you can run cables through. While this isn't exactly the most comfortable way to operate a computer, it sure beats putting your high-priced notebook on a rough or dirty surface.
While this might sound like too much of a case for the average user, the OtterBox is a wise investment for anyone that works or travels in less than ideal conditions.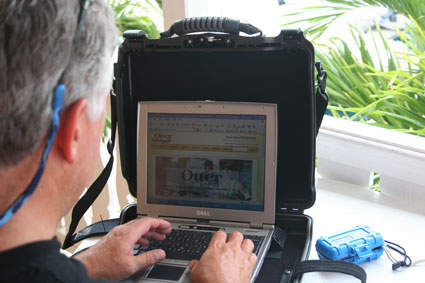 We decided to put the OtterBox case through a few tests of our own to gauge exactly how tough this case is. On a rainy day in San Francisco we dunked the case in the bay, dragged it over rocks, jumped up on down on it, kicked it down some concrete steps, threw it down the street and beat it with a hammer. After abusing the case and enclosed notebook, we fully expected to crack the LCD or bust the thing in half.
The damage? A couple of scratches and one small dent to on Otterbox case. The notebook was fine except for a chipped PCMCIA card slot ejector that was jarred loose and rubbed up against one of the rubber bumpers. We did get a couple of drops of water in the case, but it was nothing that put our notebook at risk. A company rep said water can drip into the case when opening it after being dunked in water, so we should have dried off the exterior before opening it.
Check out the video and keep in mind the top of the notebook started out a little wet from some drizzle.
[google 3568715866861285569 nolink]
We highly recommend the OtterBox as relatively affordable insurance against mother nature.
The OtterBox Laptop Case is available for $169 from OtterBox
—Here's a letter from one OtterBox owner I thought was interesting and an example of someone who really needs a rugged case.
Dear OtterBox -I recently acquired an OtterBox laptop case to take with me on
assignment in Greenland for Popular Photography Magazine. As a digital
photographer, I need my laptop in the field to download and review
images. In the past, soft cases have left my laptop vulnerable to
crushing and bruising and waterproof bags needed for zodiac trips ashore
have been equally unsatisfactory. On small bush planes, I've had to
carry the laptop by hand because I knew even the hard cases I had
couldn't protect it in the baggage holds.I was incredibly impressed with the OtterBox case. The slim ballistic
shell not only survived the rigors of small plane travel (I even used it
as a footrest!), two weeks aboard an arctic expedition ship and a hike
onto the Greenland ice cap, but came in handy in an unexpected way on my
return flight. When terrorism threats triggered carryon restrictions, I
backed up my harddrive on DVDs and reluctantly packed my laptop into the
OtterBox case and stuffed it inside my duffle bag as checked luggage. I
expected the worst, so you can imagine my joy when I opened my duffle
five airports and two days later to find the OtterBox shell had
completely protected my laptop.

I now consider the slim shell a critical piece of my digital field
darkroom. Thanks for producing such an indestructible case for field
work, that is also handsome enough for me to take into an editor's
office in New York.

Cheers,
Jad
Advertisement