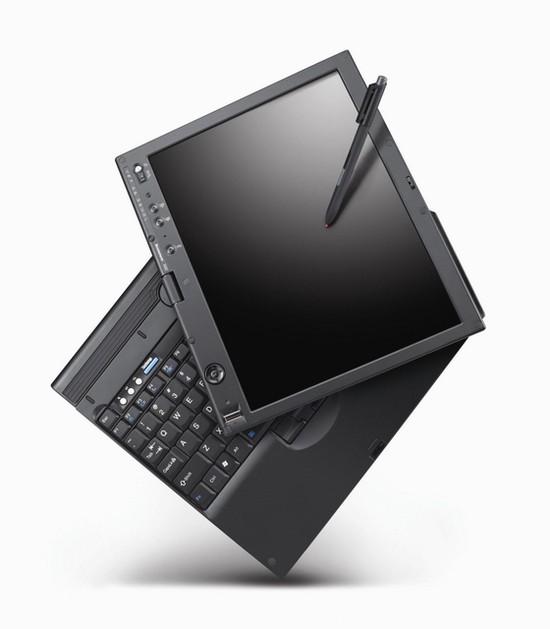 Lenovo announced the ThinkPad X60 Tablet, a convertible tablet with two new screen choices. The Lenovo ThinkPad X60 Tablet's new 12-inch MultiView indoor/outdoor, anti-reflective/anti-glare display, dramatically helps increase viewability in multiple environments.
This screen choice comes combined with the new MultiTouch feature that allows users to move the cursor with their pen or finger. MultiView/MultiTouch screen combination along with the ThinkPad X60 Tablet's standard 170 degree viewing angle means better portability and improved usability for the healthcare professional recording patient information in a hospital, the real estate agent taking notes in a home or the sports coach reviewing statistics at a game. The X60 Tablet also gives users sharper, crisper images with more vibrant color when they choose to add a new, high-resolution SXGA+ screen.The ThinkPad X60 Tablets come equipped with Lenovo's patented-pending Active Rotate function. With Active Rotate, the screen immediately orients to the user, no matter which direction it turns. The ThinkPad X60 Tablet's design also focuses on improving more traditional features like navigational tools and the pen. Now a redesigned NavDial lets users move easily in four directions, and it even remaps keys so "up" is always "up" as the user changes orientation with Active Rotate.
Also, a new, more natural and durable pen resumes from suspend automatically when a user removes it from its cradle. An enhanced digital microphone repositioned on the front bezel enables more accurate voice recognition and rounds out the ThinkPad X60 Tablet's sensory improvements.
"The Lenovo ThinkPad X60 Tablet PC marries the best aspects of notebooks and pen-based devices," said Peter Hortensius, senior vice president, Notebook Business Unit, Lenovo. "With new screen options, hardware capabilities and an improved sensory experience interacting with the tablet, the new Lenovo ThinkPad X60 Tablet is packed with the innovation our customers want."
The X60 Tablet's design also includes greater performance with more memory, up to 120GB drive and longer battery life. The X60 Tablet offers shocked mounted 2.5 inch SATA high-speed hard drives up to 120 GB/5400 rpm or optional 100 GB/7200 rpm.
A longer battery life – more than 10 hours with the standard 8-cell tablet battery and optional X60 Extended Life battery – a 1.1 inch-thin frame and its light weight starting at 3.8 pounds keeps users on-the-go.
Lenovo's suite of ThinkVantage Technologies with Rescue and Recovery, Embedded Security Subsystem and other ThinkVantage Technologies will enhance the Windows Vista operating system to benefit enterprises by reducing the cost of PC ownership by lowering lifecycle costs and improving end-user productivity.
Advertisement